Happy Butt N°7 Bodysuit Double Tummy Layer Capris
So Comfy... Like a Second Layer of Skin.
This seamless body shaper shapes your body without flattening your butt.
This amazing double tummy layer bodysuit Capris slims your core and flattens the
upper, middle and lower abdomen. Is breathable, invisible under clothes,
silicone lining on the long leg portions, built-in bra and an open gusset for ease when nature
calls. This Seamless breathable body shaper can be worn daily, wear it to the gym, office
or out on the town. Designed for all kinds of pants and Leggings.
Happy Butt N°7 Bodysuit is super lightweight weighing only 9 Oz.
SCULPTING LEVEL:
Firm moderate Compression.
This extraordinary patented shaper has:
* Double tummy, waist and back panel.
* Seamless Built-in bra.
* Patented flexible mesh on buttocks region.
* Over the shoulder adjustable and removable bra straps.
* Wide crotch gusset for when nature calls.
* 7 targeted compression zones.
* Butt lifter bands that lifts and enhances.
* Pressure release at the edge of leg portions.
* Upper thigh band which supports lower butt.
* Sweat-wicking.
* Four-way stretch.
* Breathable fabric.
* Seamless.
* No stitches or seams along leg openings
* Silicone lining on upper waist welt.
* Silicone lining on end of leg portions.
* Hand washed and laid flat to dry. Do not iron
* 84% nylon and 16% spandex.
SIZE CHART:
The (Top display) Model is wearing size SMALL pant size 6,
height 5'3, weight 125lbs hips 40 inches, waist 26 inches.

Please check size & style tab on menu to select your correct size.
Measurements:
Once you know your body measurements, consult the Size Chart below to determine
which size you should purchase. If you are not sure or you are in between sizes please
write your measurements, pant size, weight and height in the comments box at the time
of check out or you can call 212 739 7877.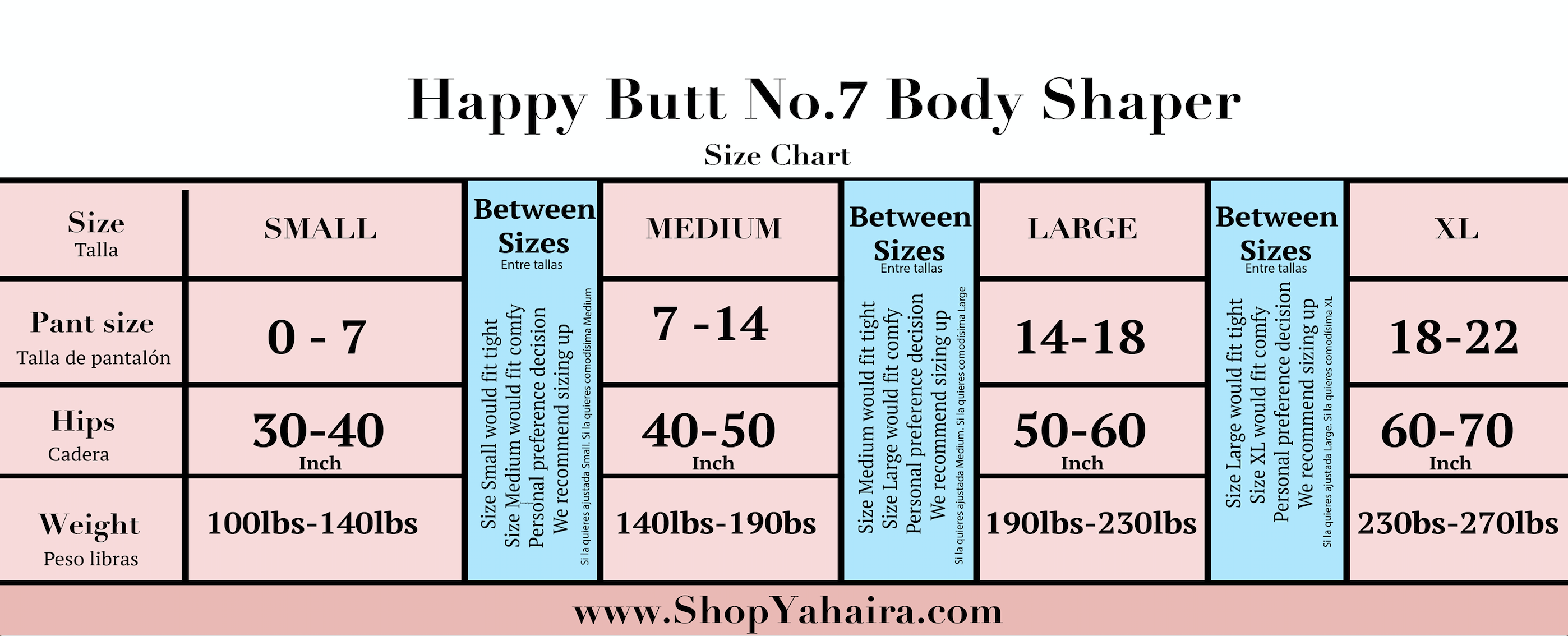 PATENTED US20150157060A1 US10058131B2
16 Reviews
I really liked this product!!! I chose a large size for myself, I decided to keep it because it defines my figure and does not constrict me, it makes me feel comfortable

This is the best shapewear I've bought. Snatched my waist and gave me an hour glass figure without surgery. I wear size medium in USA and size small on the shapewear fit perfectly.

Great for smoothing out lumps and bumps…

This bodysuit fits great but I wish it were a little longer. This is my fourth one and I feel like they never cover the girls good. I find myself tugging it up throughout the day.This is my favorite brand, I've already ordered four different styles. Totally worth the price. I enjoy wearing this bodysuit under my scrubs for work.

me encanto

Body suit capri double tummy

This is the best shapewear I have ever purchased. I recommend to order a size up. The website recommended I order a large size for my pant size 14. I'm 4'11, and weight 180. I am glad I did. I ordered the extra large instead and it fits perfect without compression and I can remove it to use the bathroom with no problem pulling it back up.

First time trying yahaira and definitely not the last! This bodysuit keeps its promise in making you look great! First day I wore it I got numerous compliments on how good I looked! My only complaint is that I wish they had an option for people with longer torsos, as someone who is 5'5 but all torso with a smaller chest my girls were on the verge of having a slip all day and I have to keep pulling it up. (And I am still trying to perfect using the restroom with this one) Otherwise, I LOVE that it actually brings in your waist and stomach while keeping the booty looking great!! Will definitely be buying more from yahaira :)

Thank God for this body shaper

Look, I never leave reviews for stuff. But, my Kingdom to have found this product sooner! I was 4 weeks out from a tummy tuck and extensive lipo and I was having the worst time with my compression garments. I am very short waisted and every single one was too long for me, which made them extremely uncomfortable. I tried these at someone's recommendation and I will never go back. They just conform to your shape and squeeze all the right places! I get as good or better compression and fit with these than I did with the medical grade garments my doctor provided me or anything I ordered on Amazon. Worth every penny! I will definitely be trying more styles!

Incredible product!! I have bought 5 different ones. Love them all.

I am a medium and I ordered a large. At first sight it looked like it wouldn't fit but it actually adjusts perfectly to me, makes me look very shaped and I can breathe and move in it perfectly. I LOVE IT. Do order a size or two larger than your original shirt size. Will look tiny at first glance but the material truly adjusts and serves it's purpose very well. It does wonders for your butt too

Love! Love! Love! The best shape wear ever!! Been wearing 1week post op lipo and I absolutely love the way it forms my body... I have another one that ordered last year ( high waisted shorts) I thought that was my favorite untill I received the full body!! I will be a lifelong customer ❤️

I love this shaper I am able to wear it under my clothes and you can not tell it at all, it's comfortable because there is no boning in it to make it uncomfortable. I love it!!!!