Happy Butt N°7 Capri Double Tummy Layer
So Comfy... Like a Second Layer of Skin.
This seamless body shaper shapes your body without flattening your butt. The low waist
double tummy layer flattens the lower abdomen, is breathable, invisible under clothes,
silicone lining on the waist area, flexible and seamless butt mesh and an open gusset
for ease when nature calls. You can be wear it daily and you can wear it while working out.
Designed for crop tops and all kinds of pants.
Is lightweight weighing only 7 Oz.
If you are between sizes please size up.
SCULPTING LEVEL:
Firm moderate Compression.
This extraordinary patented shaper has:
* Double tummy panel.
* Patented flexible mesh on buttocks region.
* Opening to use the restroom.
* 7 targeted compression zones.
* Butt lifter bands that lifts and enhances.
* Pressure release at the edge of leg portions.
* Upper thigh butt lifter band.
* Sweat-wicking.
* Four-way stretch.
* Breathable fabric.
* Seamless.
* No stitches or seams along leg openings.
* Silicone lining on the waist area.
* Silicone lining on end of leg portions.
* Hand washed and laid flat to dry. Do not iron
* 84% nylon and 16% spandex.
SIZE CHART:
The (Top display) Model is wearing size SMALL pant size 6, height 5'3, weight 130 lbs
hips 40 inches, waist 26 inches.
Measurements:
Once you know your body measurements, consult the Size Chart below to determine
which size you should purchase. If you are not sure or you are in between sizes please
write your measurements, pant size, weight and height in the comments box at the time
of check out or you can call 212 739 7877.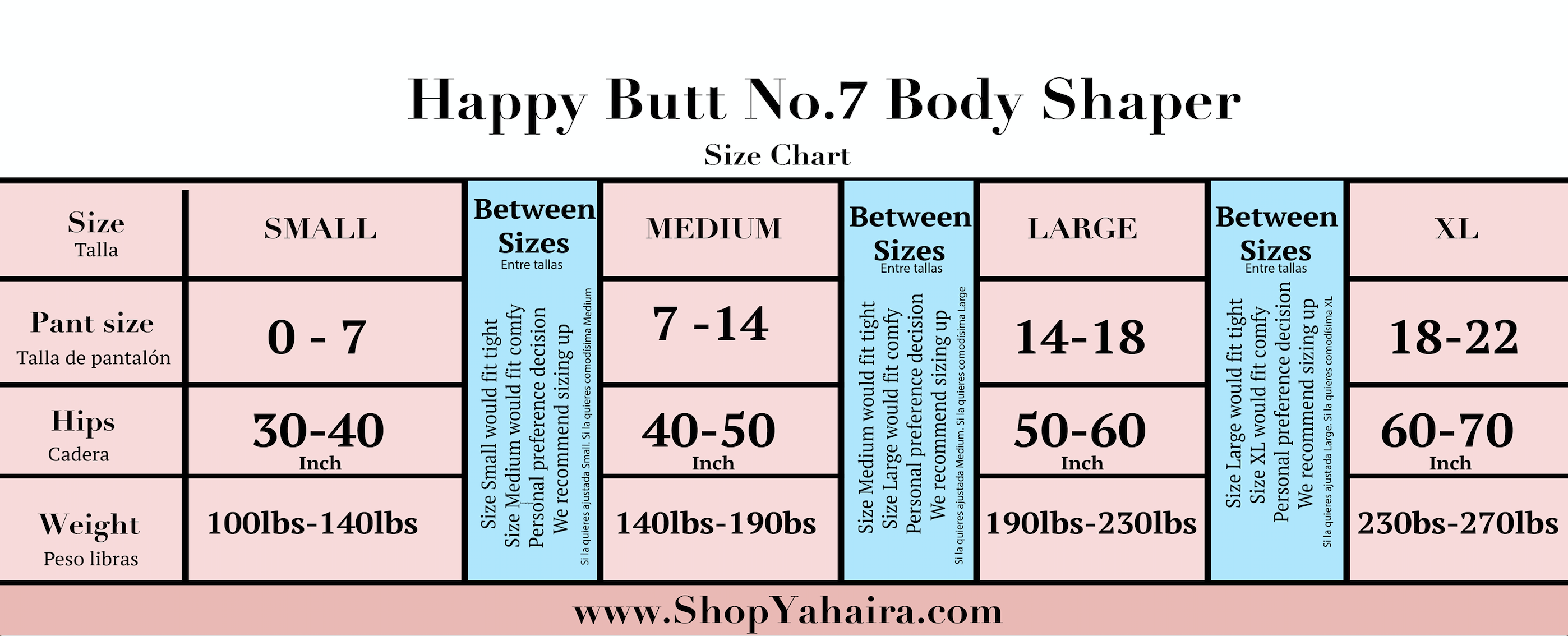 PATENTED US20150157060A1 US10058131B2
13 Reviews
Yahaira fajas are perfect and comfortable! I have purchased atleast 6 different fajas from yahaira and they never disappoint! Gives the booty a nice lift and flattens all the right areas. This particular one (capri) i purchased was mainly to use under those translucent pants and it did the job and gave me that extra confidence! You wont regret purchasing from Yahaira.

I love how it holds everything in . Makes my butt look great and NOT smashed in which is a plus. Only problem is the tummy area of the garment can be seen in a fitted dress but I can work around that . I will definitelyhh be purchasing more

This is simply the best! It's not the like the other ones I've purchased, where it's completely obvious and it looks like I have a rubber band around my butt

Awesome products!

Best purchase I have ever made.

Fit perfectly

The shape where's are one of the best of shape where is I've ever owned!!!! If you order her Shapeware you will not be disappointed and it is hard to get on the first time but once you get it on it's OK!

HAPPY BUTT NO.7 CAPRI LOW WAIST DOUBLE TUMMY LAYER

Very comfortable. I wore under a jumpsuit. Unable to tell that I was wearing it.

I absolutely love my shaper. You'll definitely look lbs lighter

I can't wait to purchase another yahira shaper in the future

Me encanto , me queda super bien , pense mucho en comprarlo y me decidi y estoy feliz con el resultado que ya ordene otro producto !!! Me encantan !!! Gracias yahaira !

Low waist happy butt #7 Capri

LOVE THIS COMPANY! LOVE THIS PRODUCT! It fit perfectly and I will be buying many more products from Yahairra. I am 5ft 7inches and 180lbs wear a size 12 and I ordered a medium. The happy butt #7 is worth every penny. So ladies don't think about the price think about doing something great for yourself that will make you feel confident and fabulous!

I will never buy another brand of shapewear! This is perfect for leggings and jeans. Lifts your butt naturally without looking fake. And your guy can squeeze it so he know it's real LOL

This is amazing does the job

Holds everything together sand lifts up the butty