Happy Butt N°7 Bodysuit DTL Above Knee
So Comfy... Like a Second Layer of Skin.
This seamless body shaper shapes your body without flattening your butt.
This amazing double tummy layer bodysuit slims your core and flattens the
upper, middle and lower abdomen. Is breathable, invisible under clothes,
silicone lining on the leg portions, built-in bra and an open gusset for ease when nature
calls. This Seamless breathable body shaper can be worn daily, wear it to the gym, office
or out on the town. Designed for midi dresses and all kinds of pants.
Happy Butt N°7 Bodysuit is super lightweight weighing only 9 Oz.
SCULPTING LEVEL:
Firm moderate Compression.
This extraordinary patented shaper has:
* Double tummy, waist and back panel.
* Seamless Built-in bra.
* Patented flexible mesh on buttocks region.
* Over the shoulder adjustable and removable bra straps.
* Wide crotch gusset for when nature calls.
* 7 targeted compression zones.
* Butt lifter bands that support, lifts and enhances your own natural shape.
* Pressure release at the edge of leg portion designed to relieve lower leg bulge.
* Upper thigh band which supports lower butt while boosting Volume.
* Sweat-wicking.
* Four-way stretch.
* Breathable fabric.
* Seamless.
* No stitches or seams along leg openings
* Silicone lining on upper waist welt.
* Silicone lining on end of leg portions.
* Hand washed and laid flat to dry. Do not iron
* 84% nylon and 16% spandex.
SIZE CHART:
The (Top display) Model is wearing size SMALL pant size 6,
height 5'3, weight 125lbs hips 40 inches, waist 26 inches.

Please check size & style tab on menu to select your correct size.
Measurements:
Once you know your body measurements, consult the Size Chart below to determine
which size you should purchase. If you are not sure or you are in between sizes please
write your measurements, pant size, weight and height in the comments box at the time
of check out or you can call 212 739 7877.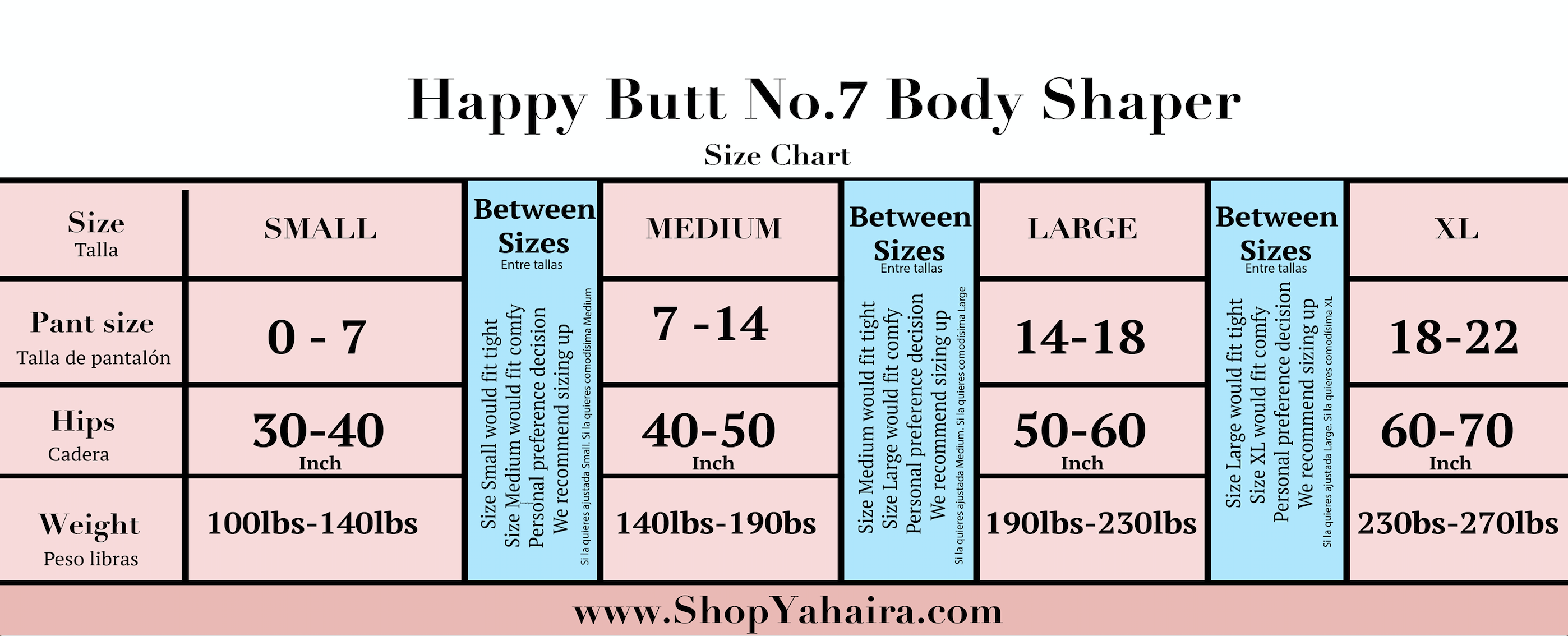 PATENTED US20150157060A1 US10058131B2
26 Reviews
I am very impressed with the quality. Its seamless, my butt sits right!!!!

Happy Butt No.7 Bodysuit double tummy

Excellent material and excellent product. It is the best girdle "faja" I have ever owned.

I just had a baby n this help a lot it's make me feel sexy again

The best shapewear in the market

This is my 3rd purchase from yahaira shapewear. These products are truly amazing and so comfy! I wear either my bodysuit or happy butt no 7, daily! It helps keep everything together. I love the booty part, I feel like I got a BBL every time I wear it. Do not double think and buy this!

Feels good

It's my new best friend, I love it, my husband loves its. It's the best body shaper i have ever worn. It's super comfortable I forget I'm wearing it. I want to purchase more for my daughters now.

This piece is amazing i love it so much. I'm going to buy more!!!

HAPPY BUTT NO.7 BODYSUIT DOUBLE TUMMY LAYER ABOVE KNEE

So comfortable and just the right amount of compression

I already own 2 pairs of yahaira shapewear happy butt No. 7 above knee in beige size M Was my first purchase and I love it so much. I also bought in a Small size in beige as well. So I decided to purchase happy butt No. 7 double layer above the knee in black and let me tell you I love it..! The double layer makes my waist look like an hourglass. Lifts my butt like no other shapewear has. I love wearing my leggings & especially my jeans with yahaira shapewear. You can't tell what you have under your skin. Planning on purchasing another double layer in beige in a small size. I'm In between sizes so a small or med fits me good. I wear small when I go out & about. I wear the medium to go run some errands and to wear to be around the house or even when I exercise. Thank you yahaira for this wonderful shapewear it makes miracles. For reference I'm a size 7 in jeans weight 135

I'm in love with this shapewear this one is the best one I've have purchase I love that you don't have to wear a bra with this one which is such a plus for me I'm really happy I brought this

best product after trying so many

my most favorite. I have all of yahaira garments this one is truly my favorite

I am absolutely In love with their shapers!! I first ordered the long double tummy layer and had to size down and im so happy i picked this one because now i don't have to worry about back fat anymore Lol.