Happy Butt N°7 Bodysuit DTL Above Knee
So Comfy... Like a Second Layer of Skin.
This seamless body shaper shapes your body without flattening your butt.
This amazing double tummy layer bodysuit slims your core and flattens the
upper, middle and lower abdomen. Is breathable, invisible under clothes,
silicone lining on the leg portions, built-in bra and an open gusset for ease when nature
calls. This Seamless breathable body shaper can be worn daily, wear it to the gym, office
or out on the town. Designed for midi dresses and all kinds of pants.
Happy Butt N°7 Bodysuit is super lightweight weighing only 9 Oz.
SCULPTING LEVEL:
Firm moderate Compression.
This extraordinary patented shaper has:
* Double tummy, waist and back panel.
* Seamless Built-in bra.
* Patented flexible mesh on buttocks region.
* Over the shoulder adjustable and removable bra straps.
* Wide crotch gusset for when nature calls.
* 7 targeted compression zones.
* Butt lifter bands that support, lifts and enhances your own natural shape.
* Pressure release at the edge of leg portion designed to relieve lower leg bulge.
* Upper thigh band which supports lower butt while boosting Volume.
* Sweat-wicking.
* Four-way stretch.
* Breathable fabric.
* Seamless.
* No stitches or seams along leg openings
* Silicone lining on upper waist welt.
* Silicone lining on end of leg portions.
* Hand washed and laid flat to dry. Do not iron
* 84% nylon and 16% spandex.
SIZE CHART:
The (Top display) Model is wearing size SMALL pant size 6,
height 5'3, weight 125lbs hips 40 inches, waist 26 inches.

Please check size & style tab on menu to select your correct size.
Measurements:
Once you know your body measurements, consult the Size Chart below to determine
which size you should purchase. If you are not sure or you are in between sizes please
write your measurements, pant size, weight and height in the comments box at the time
of check out or you can call 212 739 7877.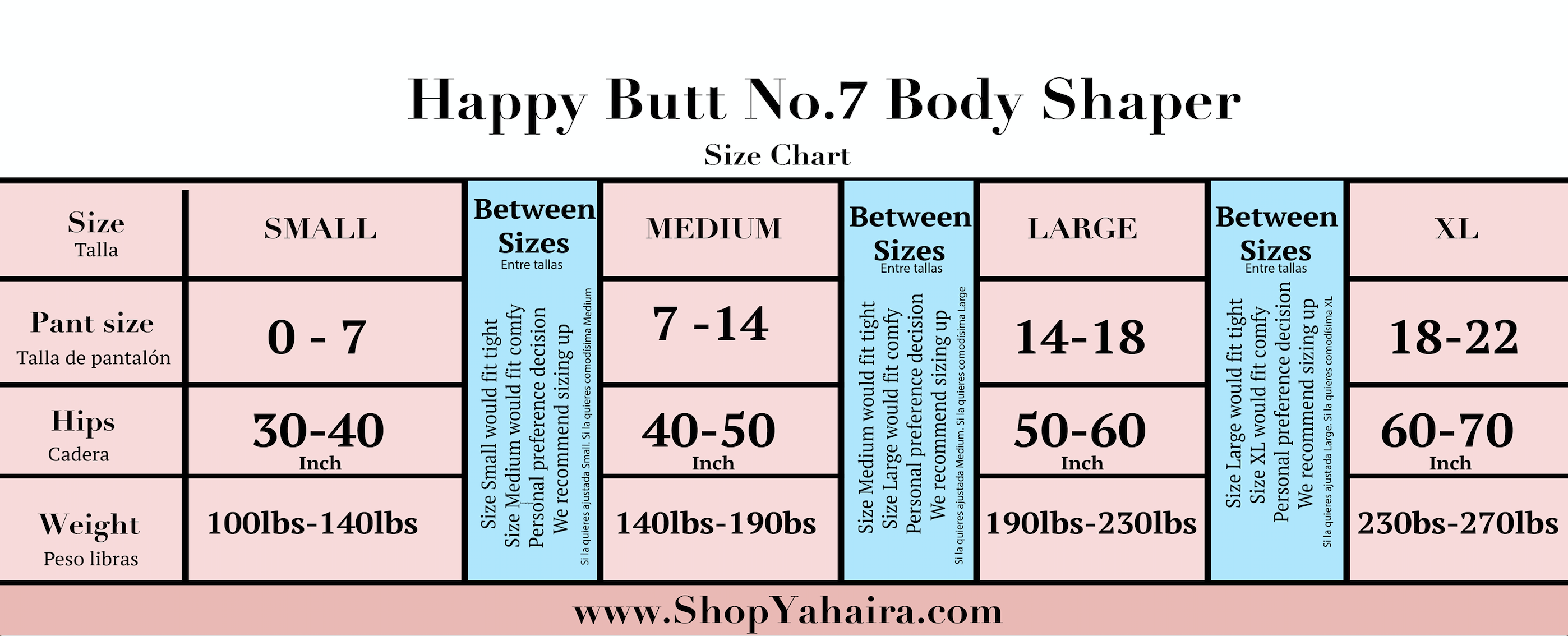 PATENTED US20150157060A1 US10058131B2
86 Reviews
Me parece excelente si me aplana mi vientre, me encanto.

Excelente inversión 100 x 100 recomendada

Es muy cómoda y no te sientes incómoda al tenerla puesta ??

The best I've tried every body suit u can think of and nothing beats this!

Me encanto! Verdaderamente buenísima, excelente calidad, te hace lucir el cuerpo expectacular, Excelente servicio al cliente! La mejor compra que podrás hacer!

The best… I wear it most days

I have bought about 5 and I'm obsessed with them. They are great!! I wear it to work, to go out, gym and I highly recommend it. It snatches you but still comfortable and breathable.

This is my third one it's just perfect for dresses jeans and working out. Feels comfortable and shapes my body.

HAPPY BUTT NO 7. BODY SUIT DOUBLE TUMMY LAYER ABOVE KNEE

Super comfortable shaper wear nicest of all the shape wears I ever bought.

It's amazing it's like a second skin !!! True fit cannot be seen under clothes . I wear it everyday!! Love it !!

I love the way this fits. But the reason why I gave it a four star and not a five is because the straps were uncomfortable. The straps were cutting into my skin

I've had a lot of shape wear and this one is the best I believe the thighs don't roll good compression love how it molds my butt I would just size down one size I'm usually a large and I got a medium this time first time I got a large and it was ok just didn't get the compression I wanted I would say I like it better than my skims body shaper

I love this Shapewear it's super comfortable fits great and shapes me perfectly. I'm a xl in my hips and m in my waist and this is the only Shapewear that fits my body right and will snatch me up. Absolutely in love would definitely recommend.

I have purchased many fajas in the past. I would wear them maybe 2 - 3 times of how unconfortable they can be. I decided to give this one a try and I AM IN LOVE. it is very confortable. I can wear it all day without a problem. I do all my house chores and go out and I am feeling my best. It does not make it seem like you are wearing anything underneath and its very confortable. Yes! Absolutely my favorite :)