Happy Butt N°7 Bodysuit DTL Above Knee
So Comfy... Like a Second Layer of Skin.
This seamless body shaper shapes your body without flattening your butt.
This amazing double tummy layer bodysuit slims your core and flattens the
upper, middle and lower abdomen. Is breathable, invisible under clothes,
silicone lining on the leg portions, built-in bra and an open gusset for ease when nature
calls. This Seamless breathable body shaper can be worn daily, wear it to the gym, office
or out on the town. Designed for midi dresses and all kinds of pants.
Happy Butt N°7 Bodysuit is super lightweight weighing only 9 Oz.
SCULPTING LEVEL:
Firm moderate Compression.
This extraordinary patented shaper has:
* Double tummy, waist and back panel.
* Seamless Built-in bra.
* Patented flexible mesh on buttocks region.
* Over the shoulder adjustable and removable bra straps.
* Wide crotch gusset for when nature calls.
* 7 targeted compression zones.
* Butt lifter bands that support, lifts and enhances your own natural shape.
* Pressure release at the edge of leg portion designed to relieve lower leg bulge.
* Upper thigh band which supports lower butt while boosting Volume.
* Sweat-wicking.
* Four-way stretch.
* Breathable fabric.
* Seamless.
* No stitches or seams along leg openings
* Silicone lining on upper waist welt.
* Silicone lining on end of leg portions.
* Hand washed and laid flat to dry. Do not iron
* 84% nylon and 16% spandex.
SIZE CHART:
The (Top display) Model is wearing size SMALL pant size 6,
height 5'3, weight 125lbs hips 40 inches, waist 26 inches.

Please check size & style tab on menu to select your correct size.
Measurements:
Once you know your body measurements, consult the Size Chart below to determine
which size you should purchase. If you are not sure or you are in between sizes please
write your measurements, pant size, weight and height in the comments box at the time
of check out or you can call 212 739 7877.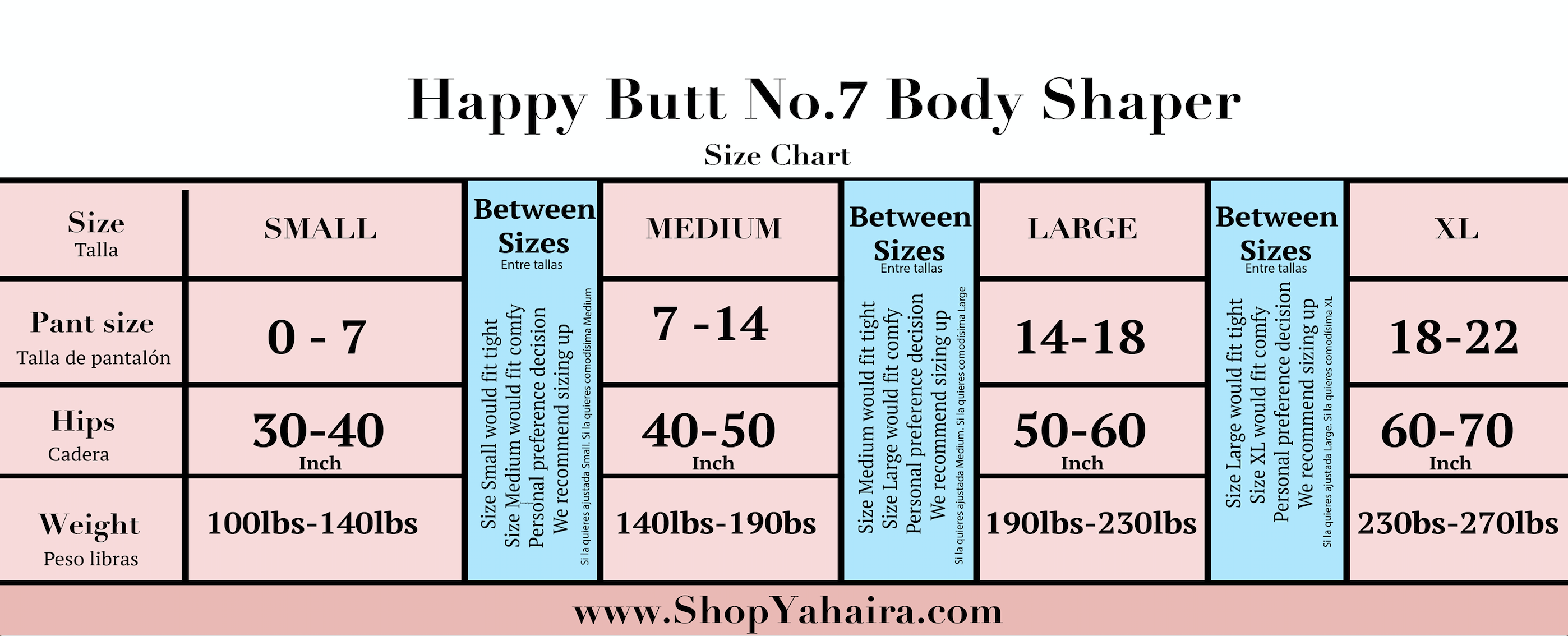 PATENTED US20150157060A1 US10058131B2
37 Reviews
Comfortable fit. and it does exactly as described. My butt looks amazing!

Definitely a game changer for me. I bought this garment for my postpartum and let me tell you it has helped me with my posture and keeping my waistline snatched. For me it's been comfortable to even sleep with. I bought it in black and loved it so much that I even got a nude color. I'm 5'5 weight 152 I got a Medium and it's perfect fit.

I have spent hundreds of dollars on shape ware in the past, after purchasing my first happy butt#7 I will continue to purchase my shape ware drone here! They are so comfortable you can wear them all day. Love this product!

It really really hugs your body nice and tight but yet breathable ♥️

This body shaper is awesome. The measurement chart is helpful and accurate. I appreciate the chart using hip measurement instead of waist measurements. I was initially concerned because I have bigger hips and butt, but the shaper is true to size. There was a problem with my original order, but the customer service was quick and professional. For reference I usually wear size 18-20 pants. My waist is 40 in, hips are 58.5 in and I ordered a L because I wanted it to be snug. It fit exactly how I wanted.

Bodysuit above knee double tummy layer

I ordered size large which fits perfectly and comfortable. I am pear shaped. This shaper gives me an hour glass figure with excellent support. I own 5 pieces of your shapewear including the 2 dresses. I highly recommend yahaira s shapewear. Use it to enhance what you have ladies. A forever customer. Thank you Yahaira

Best shapewear I've owned

This shapewear is AMAZING! They thought about everything. It is comfortable but it holds you in. It doesnt flatten ur butt. It lifts ur butt also. Worth every dollar. I will be a customer for life. Oh and fast shipping as well. Thank u.

Great fit! Comfortable for all day wear . Arrive on time.

Love this product! Definitely feels like a second skin and it has enough compression to keep everything looking smooth and toned

Acomoda, da forma y acomoda perfecto ahora con los tirantes da más seguridad y súper cómoda

Love it so much just hate how it's so hard to get into but worth it ..

I am very impressed with the quality. Its seamless, my butt sits right!!!!