Happy Butt N°7 Bodysuit Double Layer Shorts
So Comfy... Like a Second Layer of Skin.
This seamless body shaper shapes your body without flattening your butt.
This amazing double tummy layer bodysuit slims your core and flattens the
upper, middle and lower abdomen. Is breathable, invisible under clothes,
silicone lining on the leg portions, built-in bra and an open gusset for ease when nature
calls. This Seamless breathable body shaper can be worn daily, wear it to the gym, office
or out on the town. Designed for short dresses, shorts and mini skirts.
Happy Butt N°7 Bodysuit is super lightweight weighing only 8 Oz.
SCULPTING LEVEL:
Firm moderate Compression.
This extraordinary patented shaper has:
* Double tummy, waist and back panel.
* Seamless Built-in bra.
* Patented flexible mesh on buttocks region.
* Over the shoulder adjustable and removable bra straps.
* Wide crotch gusset for when nature calls.
* 7 targeted compression zones.
* Butt lifter bands that support, lifts and enhances your own natural shape.
* Pressure release at the edge of leg portion designed to relieve lower leg bulge.
* Upper thigh band which supports lower butt while boosting Volume.
* Sweat-wicking.
* Four-way stretch.
* Breathable fabric.
* Seamless.
* No stitches or seams along leg openings
* Silicone lining on upper waist welt.
* Silicone lining on end of leg portions.
* Hand washed and laid flat to dry. Do not iron
* 84% nylon and 16% spandex.
SIZE CHART:
The (Top display) Model is wearing size SMALL pant size 6,
height 5'4, weight 126 lbs hips 39 inches, waist 26 inches.

Please check size & style tab on menu to select your correct size.
Measurements:
Once you know your body measurements, consult the Size Chart below to determine
which size you should purchase. If you are not sure or you are in between sizes please
write your measurements, pant size, weight and height in the comments box at the time
of check out or you can call 212 739 7877.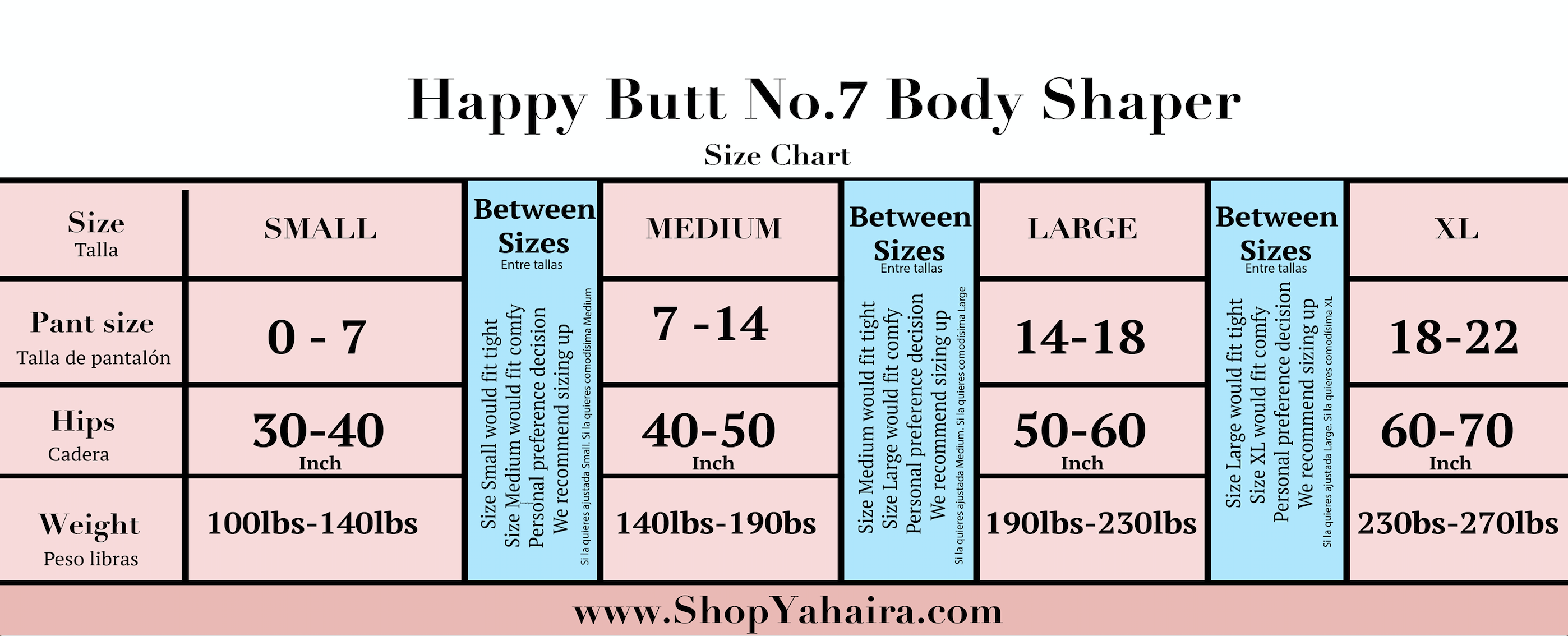 PATENTED US20150157060A1 US10058131B2
88 Reviews
I absolutely love my body shaper

I'm going to purchase them all❤️

I have been making perches from this webs site for the last 3 years and the quality is always amazing customer service is just a great 10/10 recommend

I'm impressed, I will say I saw the commercials and said "I need one too!". This thing is soooo comfortable it's unreal! Gives you a butt lift too. The one negative is that it does absolutely nothing for your boobs, I have c cup boobs and it does nothing for them. I always wear a bra underneath. Also if you have very large thighs like me the silicone around the bottom will start tearing apart and the short will start rolling up which can be painful, but even knowing that I still love mine and wear it when I go out. I also got the shorts and I will say I perfer the bodysuit over them. I will definitely buy another one soon!

Fits great ! True to size. Very comfortable once on. It's not full coverage on the breast which I like so I can use my own bra.

Love it!

Loved it! Perfect fit! Thank you XS for the help on changing my size with out any issues

I have tried so many shape wear And I can confidently tell you that Yahaira a shape where is the best there is. It is reasonably priced and it shapes me so good.

Me encantó como me quedó, la talla fue perfecta. Súper cómodo y te moldea el cuerpo perfectamente.

Get it !! This is definetly an investment piece , makes your body look snatched under clothes. Makes your body look curvy without making you feel uncomfortable. LOVEEEEE ITTT

I had been wanting a body shaper for a while and I'd been shopping around but couldn't convince myself to cough up the cash to buy one. I saw these ads and all the nice comments/reviews, but almost choked when I saw the price tag... But then i reasoned, I'm gonna buy at least 2 other brands, $20+ each and be disappointed, that's $40+ out the window and then eventually be resigned to buying this one.. Or I could just dive right in and dish out $100 only once and for the best there is. I chose the later and I'm happy to say Yahaira did not disappoint. I found my size online, and despite fears of no returns and comments about sizing up I stuck to the size chart. It was a baby feat to get it on, I may have worked up a slight sweat

Excelent !!!!

THIS IS THE THIRD FAJA I GET FROM THEM AND THEYRE ALL AMAZING!!!!