Happy Butt N°7 Bodysuit Double Layer Shorts
So Comfy... Like a Second Layer of Skin.
This seamless body shaper shapes your body without flattening your butt.
This amazing double tummy layer bodysuit slims your core and flattens the
upper, middle and lower abdomen. Is breathable, invisible under clothes,
silicone lining on the leg portions, built-in bra and an open gusset for ease when nature
calls. This Seamless breathable body shaper can be worn daily, wear it to the gym, office
or out on the town. Designed for short dresses, shorts and mini skirts.
Happy Butt N°7 Bodysuit is super lightweight weighing only 8 Oz.
SCULPTING LEVEL:
Firm moderate Compression.
This extraordinary patented shaper has:
* Double tummy, waist and back panel.
* Seamless Built-in bra.
* Patented flexible mesh on buttocks region.
* Over the shoulder adjustable and removable bra straps.
* Wide crotch gusset for when nature calls.
* 7 targeted compression zones.
* Butt lifter bands that support, lifts and enhances your own natural shape.
* Pressure release at the edge of leg portion designed to relieve lower leg bulge.
* Upper thigh band which supports lower butt while boosting Volume.
* Sweat-wicking.
* Four-way stretch.
* Breathable fabric.
* Seamless.
* No stitches or seams along leg openings
* Silicone lining on upper waist welt.
* Silicone lining on end of leg portions.
* Hand washed and laid flat to dry. Do not iron
* 84% nylon and 16% spandex.
SIZE CHART:
The (Top display) Model is wearing size SMALL pant size 6,
height 5'4, weight 126 lbs hips 39 inches, waist 26 inches.

Please check size & style tab on menu to select your correct size.
Measurements:
Once you know your body measurements, consult the Size Chart below to determine
which size you should purchase. If you are not sure or you are in between sizes please
write your measurements, pant size, weight and height in the comments box at the time
of check out or you can call 212 739 7877.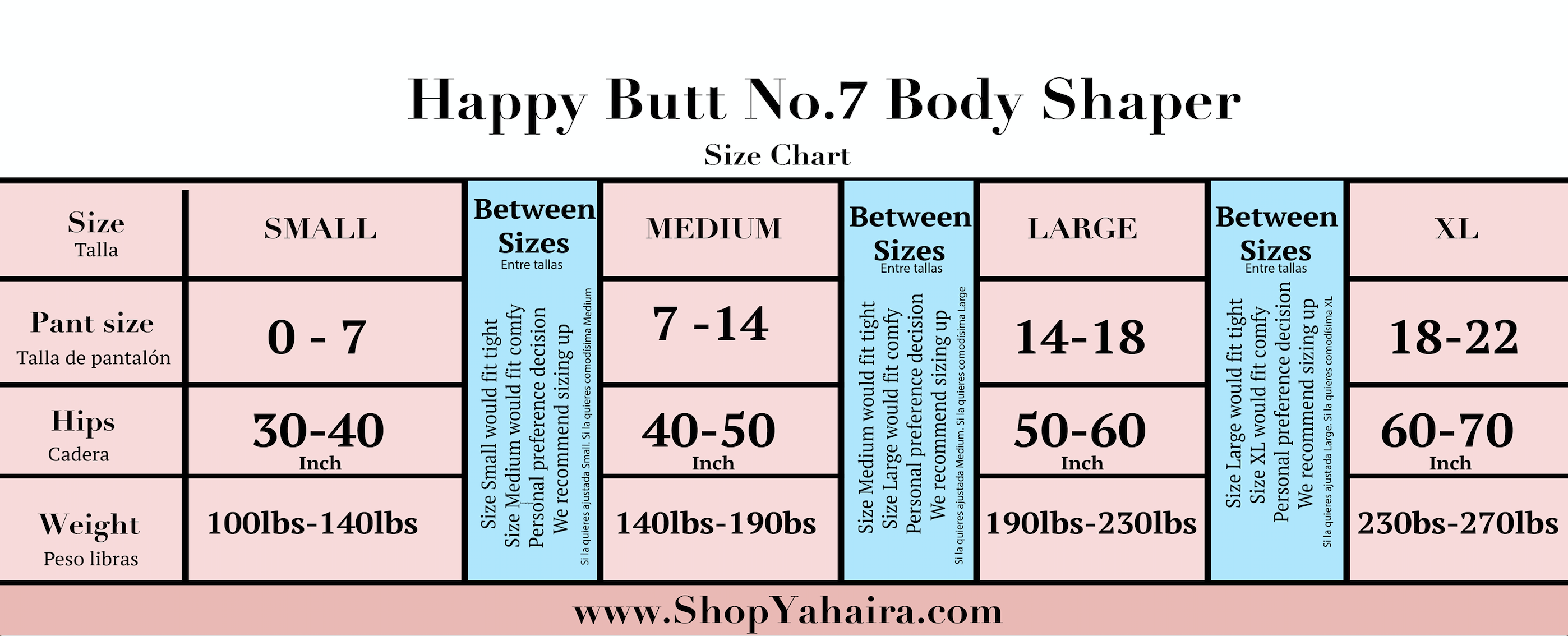 PATENTED US20150157060A1 US10058131B2
19 Reviews
Ladies !! Yahaira's shape wear is Amazing !! The body suit gave me the most amazing butt lift ever and Made my waist super tiny ! Its super comfy as well I can definitely wear this all day !! I tried. Many shape wear and trust me this is by far the best !! I can tell Yahaira really put her heart and soul to making this shape wear for us ladies !! You wont regret buying it ! Im totally obsessed !! They also have amazing customer service !

I cannot express how happy & in love I am w/the happy butt no. 7 bodysuit shorts!!! WAY easier to get on by myself & it stays up all day due to the straps! Super comfy & feels like a hug holding you in, in all the right places.

Ladies this is the best shape wear O have ever purchased. It really holds you in. At first you may think that it is too small, but just follow the directions and it WILL stretch and accommodate you. Get it ladies!

I couldn't be anymore thrilled!! Yahaira shape wear is in a league of their own, blowing any other competitors out of the water!! This shape wear does exactly what you'd want; leaving you with a curvy, smoother than ever figure. I'm obsessed! Never going back.

Love it

I LIKE

Without a doubt the best shape wear I've purchased! Very well made, doesn't leave any crease after hours of wearing it, and not noticeable under clothing!

This is the best!

I love this! It feels great, its comfortable and flattens the tummy perfectly. I couldn't of had order a medium for extra shapewear but the L feels great and does the job. Will definitely purchase again

Awesome shaper.. . Great support where needed. Also amazing customer service. This is my shapewear supplier FOR Life

I weight 208lbs i am 5'7. I ordered a large. The faja is incredibly comfortable. It gives me a wonderful figure. What surprised me the most was the butt area. It seriously lift my booty i couldn't stop staring at how good it made my butt look. The material is amazing and it really is invisible under clothes. I love my body suit so much thank you Yahaira. I will defiantly be ordering from the rest of the collection.

Yahira products never seems to fail at al lum him always impressed with the quality she makes the shapers I'm so in love with the bodysuit or lifts and tucks always others areas looks like I had lipo and a bbl done I'm very please with this product I bought the black and nude color .