Happy Butt N°7 Single Tummy Layer
So Comfy... Like a Second Layer of Skin.
This seamless breathable body shaper shapes your body without flattening your butt.
We've created Happy Butt N°7 with medium moderate compression. It's made with a breathable fabric and invisible under clothes with 7 targeted compression zones where you need it the most, 4 adjustable bra straps, silicone lining on the leg edge portions to prevent the rolling up effect and a double gusset for ease when nature calls. This Seamless breathable body shaper can be worn daily under any clothing. Wear it to the gym, office or out on the town. We've designed it to be your most comfortable, everyday essential! This body shaper fits true to size. Happy Butt N°7 is super lightweight ... Weighing only 6 Oz
________________________________________
SCULPTING LEVEL:
Medium Moderate Compression.
_________________________________________
This extraordinary patented shaper has:
* 7 targeted compression zones where you need it the most for a more comfortable fit.
* High waist design control top with single tummy panel that flattens your waistline smoothing the tummy, waist and back.
* Butt lifter bands that support, lifts and enhances your own natural shape.
* Special mesh on buttocks region to avoid flattening and enhance volume.
* Anti-bacterial technology prevents the growth of odor-causing microbes.
* Sweat-wicking.
* Four-way stretch.
* Wide crotch gusset for when nature calls.
* Special zone in mid leg that expands according to your leg size.
* Pressure release at the edge of leg portion designed to relieve lower leg bulge.
* Upper thigh band which supports lower buttocks while boosting Volume.
* 4 Adjustable removable bra Straps.
* Invisible under clothes.
* No stitches or seams along leg openings.
* Silicone lining made of elastan on polyurethane base located on the on upper waist welt to prevent
from sliding.
* Silicone lining made of elastan on polyurethane base located on the on end of leg portions to prevent
garment from rising.
* You can wear it day and night you won't feel it.
* Hand washed in cold water and laid flat to dry. Do not iron.
* This body shaper is constructed of 84% nylon and 16% spandex (elastane) knit fabric.
SIZE CHART:
The (Top display) Model is wearing a size SMALL. Her pant size is 6, height is 5'6 Weight 135lbs.
Please check size & style tab on menu to select your correct size.
Measurements:
Once you know your body measurements, consult the Size Chart below to determine which size you should purchase. If you are not sure or you are in between sizes please write your measurements, pant size, weight and height in the comments box at the time of check out or you can call 212 739 7877.
This body shaper fits true to size.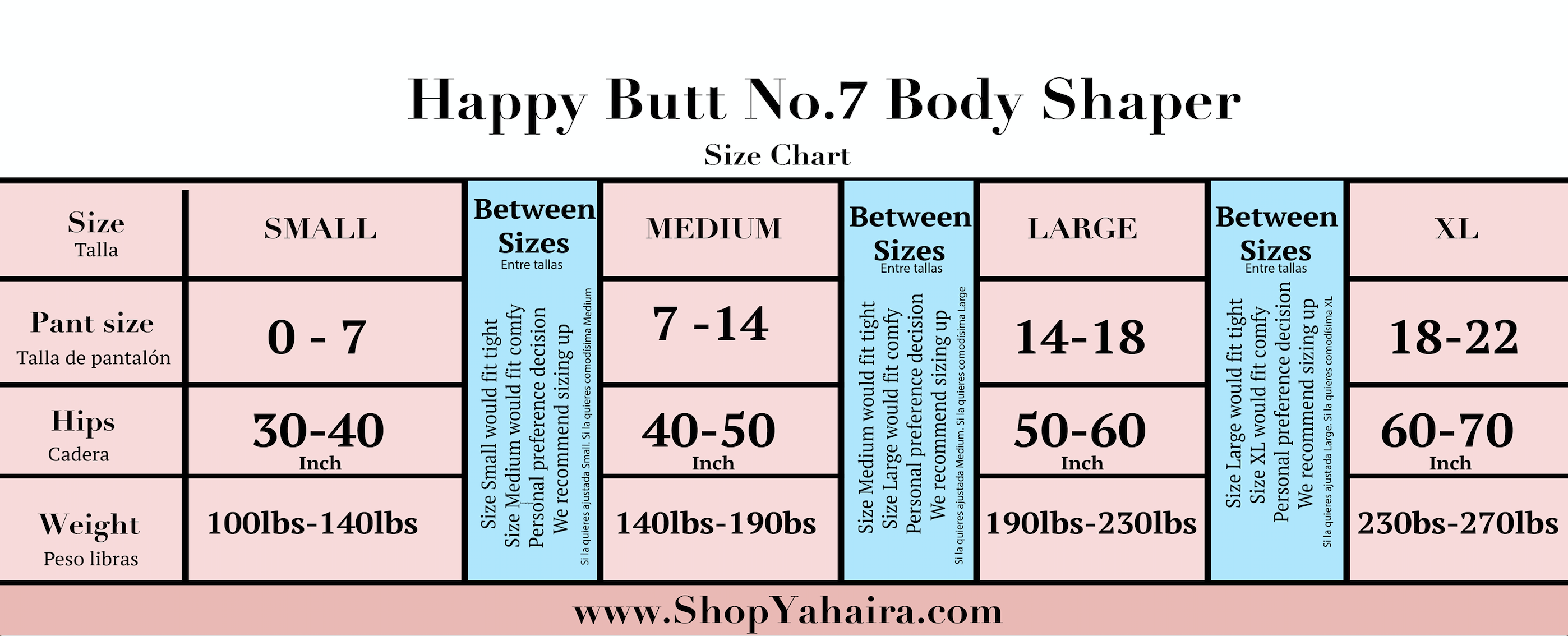 PATENTED US20150157060A1 US10058131B2
176 Reviews
Love it perfect

Although it is pretty hard to get on I absolutely love it. I only tried it on, haven't actually worn it out yet but OMG!!!! This garmet smooths you out and holds everything in and even lifts your butt to perfection. I ordered a medium and I'm 179lbs and 5'3, fit perfect.

beautiful leggings , the best ever im in love

yahaira you're the best girl!!!

It is beautifully made. Doesn't roll up or down. I ordered a large. I wear size 16 pants. I ordered the single tummy layer thinking the double might be uncomfortable. It's so incredibly comfortable I want the double layer now.

Literally came in 3 days!! I'm in love

I love it! I need the one for mini dresses too! Sidenote: for me i should have ordered the double layer. Due your research and choose the best one for You. Thank you!

It fit perfectly and feels good on...

Best under garment I have ever purchased!

I love this product it feels like I have nothing on it is so comfortable I love love love it gonna get another ASAP

I loveeeee wearing this under my dresses or just at home when there's no company. It's so lightweight and it compresses the areas needed most without feeling like you are suffocating, meaning I can wear it for hours and feel completely comfortable, I love it thank you so much!

So happy about this product.

I had ordered the wrong size initially and had contacted them immediately. I received excellent customer service, shipping was fast, and I could honestly say this is the most comfortable shape wear I've ever purchased. It enhances my curves but in the most flattering way that I still look like me but but just better :) thank you!

I was looking for a undergarment for my wadding dress I couldn't find it anywhere, my dress is White and plain so everything shows and When I said everything I mean it. I try few different including the ones that they recommend in the bridal salon and believe me none of them works for my dress, after check few reviews and find Yahaira's single tummy layer, I decided to take the risk and het this one for internet after all it cost $87 and I did not have much time to return it. It is worth it! Every single dollar! I Love this faja and the shape that give me is gorgeous. Thank you Yahaira! You make my day more special because I look the way I imagine in my dress.