Happy Butt N°7 Low Waist Shorts Double Tummy Layer
So Comfy... Like a Second Layer of Skin.
This seamless breathable body shaper shapes your body without flattening your butt. We've created Happy Butt N°7 Low Waist Shorts with firm compression, Double layered tummy panel specially designed to flatten the lower abdomen, breathable, invisible under clothes with 7 targeted compression zones where you need it the most, a double gusset for ease when nature calls, silicone lining on the leg edge portions to prevent the rolling up effect. Happy Butt N°7 Low Waist Shorts look amazing under mini skirts and shorts. This Seamless breathable body shaper can be worn daily under any clothing. Wear it to the gym, office or out on the town. We've designed it to be your most comfortable, everyday essential! Designed for shorts, mini skirts and mini dresses! This body shaper fits true to size. Happy Butt N°7 is super lightweight ... Weighing only 6 Oz.
If you are between sizes please select a size up.
SCULPTING LEVEL:
Firm Compression.
This extraordinary patented shaper has:
* 7 targeted compression zones where you need it the most for a more comfortable fit.
* Double layered tummy panel specially designed to flatten the lower abdomen.
* Butt lifter bands that support, lifts and enhances your own natural shape.
* Special mesh on buttocks region to avoid flattening and enhance volume.
* Anti-bacterial technology prevents the growth of odor-causing microbes.
* Sweat-wicking.
* Four-way stretch.
* Wide cotton crotch gusset for when nature calls.
* Special zone in mid leg that expands according to your leg size.
* Pressure release at the edge of leg portion designed to relieve mid thigh leg bulge.
* Upper thigh band which supports lower buttocks while boosting Volume.
* Invisible under clothes.
* No stitches or seams along leg openings.
* Silicone lining

made of

elastan on polyurethane base located o

n the leg portions to prevent garment from rising.

* Made with a very soft and light yarn.
* This shape wear provides very firm control shaping.
* Fabric Content: 84% Nylon, 16% Elastane
* You can wear it day and night you won't feel it.
* Hand washed in cold water and laid flat to dry. Do not iron.
SIZE CHART:
Please check size & style tab on menu to select your correct size.
The model is wearing a size SMALL. Her height is 5.7 Weight 135 Lbs, pant size 6.
Measurements:
Once you know your body measurements, consult the Size Chart below to determine which size you should purchase. If you are not sure or you are in between sizes please write your measurements, pant size, weight and height in the comments box at the time of check out or you can call 212 739 7877. If you believe you have fuller legs/thighs please size up so that the shorts styles won't be too tight on your legs.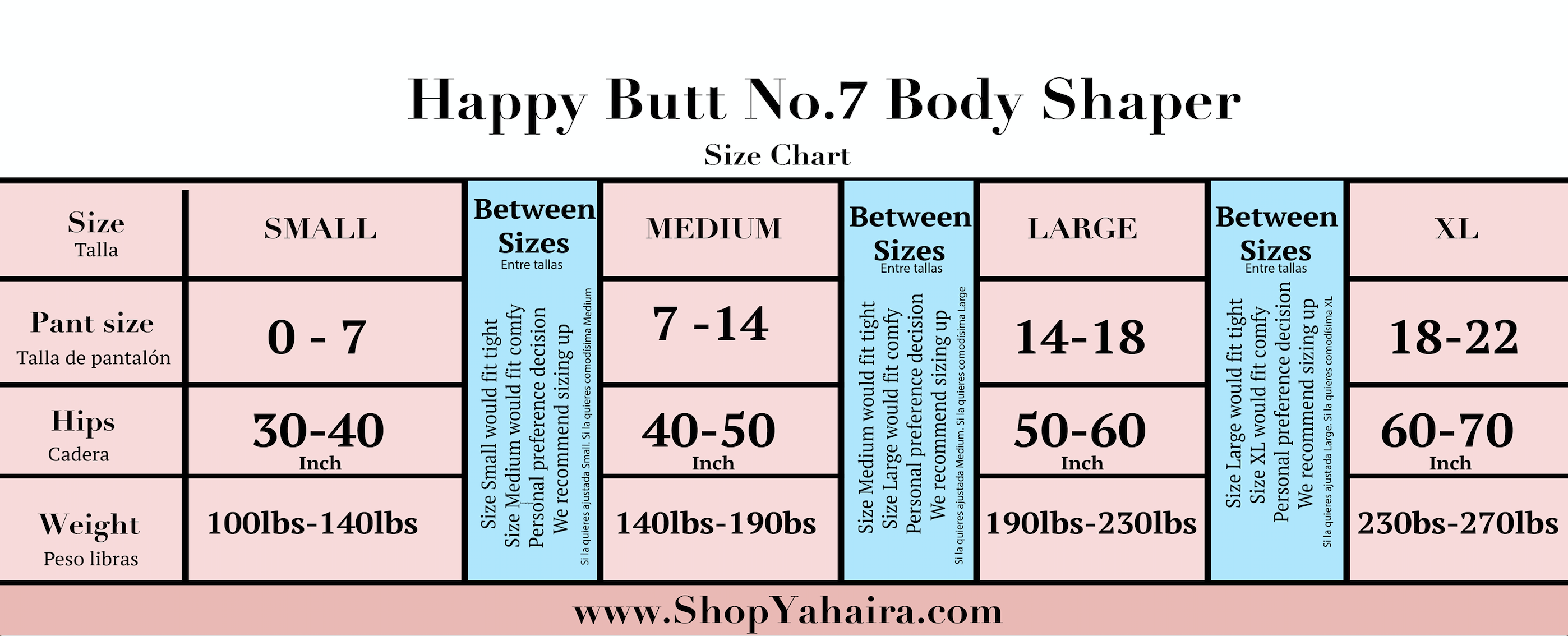 PATENTED US20150157060A1 US10058131B2
74 Reviews
Very comfortable to wear all day it hold you into place and Shapes your body very well

This is the most comfortable shaper I have owned I am very thin but after having two kids I have a small belly pouch and this shaper really flattens the belly area it also lifts my butt. This shaper is much better than Kim Kardashian Skims, which I also ordered but did not like. I will be ordering these shapers in all styles.

The best undergarment ever

Best undergarment ever comfy hides those stubborn love handles and does the best for my gluts I love it

I'm 5'10, 155 lbs, size 6 to 8 and it fit me perfectly.. a bit tight around my thighs but i plan to slim down.. best body shaper hands down for tight fitting dresses or pants.

Besides my shipping taking forever due to the holidays .. I'm completely satisfied.. I was iffy on this purchase .. but once I tried it on .. my goodness it's the best .. I had recently had a kid 2 months ago and it's a life changer.. idk how many other things I've tried .. but it's perfect .. I'm 5'5 150lbs. I got a size medium ♥️ I will be ordering more ..

I am confident in wearing skin tight dresses. And no one knows I have it on

HAPPY BUTT NO.7 LOW WAIST SHORTS

super comfortable and

I love this shaper. It fit great and is comfortable when on and I wasn't trying to rush to get out of it after wearing for a few hours which is a big plus. I have multiple fibroids and this shaper allowed me to feel comfortable and confident again when wearing a dress! It minimized the fibroids to where I didn't look pregnant and didn't flatten my butt. Thanks for making a quality product..it's worth the money and I will look to purchase more products from this company.

HAPPY BUTT NO.7 LOW WAIST SHORTS DOUBLE TUMMY LAYER

Best garment ever. Looks very natural. Makes a flat asz look like cakkkeeeeeezzzzzzz!!!

Amazing compression bottoms

I couldn't be more happy I love that the bottom part has a roll up guard so the shorts don't roll up on you amazing products.

I love it

I love it all except for one thing

I love this faja. It makes your butt look so good and plump. Can't wait to wear it out. It will be very tight at the beginning when you first try it on. But from what I heard, it eventually adapts to your body. Which I hope it does because i feel like its super tight around my legs. It does make your pooch a lot less noticeable, but not completely gone. So keep that in mind if you're planning to buy one. My only downfall about it is that it does roll down. Even though it does have the sticky part in the inside, it rolls down. Not a lot, which doesn't bother me. I mainly got this because it makes your booty look like you got a BBL. Besides that, I thought it was very easy to put on. Pain is beauty my friends..