Happy Butt N°7 Tank Top Bodysuit ONE LAYER Shorts
Choose to layer or wear alone.
This secretly smoothing Tank Top Bodysuit slims your core and is versatile as you are because it can be worn as a bra or a tank top, Breathable, invisible under clothes, silicone lining on the leg portions, built-in bra tank top and a double gusset for ease when nature calls. This Seamless breathable body shaper can be worn daily, wear it to the gym, office or out on the town. Designed for shorts, mini skirts and mini dresses. Happy Butt N°7 Bodysuit Tank Top is super lightweight ... Weighing only 9 Oz.
____________________________
SCULPTING LEVEL:
Firm moderate Compression.
This body shaper fits true to size
____________________________
This extraordinary patented shaper has:
* 100% seamless Built-in bra that will expand according to your breast size.
* 7 targeted compression zones where you need it the most for a more comfortable fit.
* Full back coverage
* Inner front tummy panel that flattens your tummy.
* Butt lifter bands that support, lifts and enhances your own natural shape.
* Special mesh on buttocks region to avoid flattening and enhance volume.
* Anti-bacterial technology prevents the growth of odor-causing microbes.
* Sweat-wicking.
* Four-way stretch.
* Wide cotton crotch gusset for when nature calls.
* Special zone in mid leg that expands according to your leg size.
* Pressure release at the edge of leg portion designed to relieve lower leg bulge.
* Upper thigh band which supports lower buttocks while boosting Volume.
* Invisible under clothes.
* No stitches or seams along leg openings.
* Silicone lining made of elastan on polyurethane base located on the on end of leg portions to prevent garment from rising.
* Made with a very soft and light yarn.
* This shape wear provides very firm control shaping.
* Fabric Content: 84% Nylon, 16% Elastane
* You can wear it day and night you won't feel it.
* Hand washed in cold water and laid flat to dry. Do not iron.
The model is wearing a SMALL size her height is 5.7 Weight 140 pounds, pant size 6.
SIZE CHART:
Please check size & style tab on menu to select your correct size.
Measurements:
Once you know your body measurements, consult the Size Chart below to determine which size you should purchase.
If you are not sure or you are in between sizes please write your measurements, pant size, weight and height in the
comments box at the time of check out or you can call 212 739 7877. This body shaper fits true to size.
If you believe you have fuller legs/thighs please size up so that the shorts styles won't be too tight on your legs.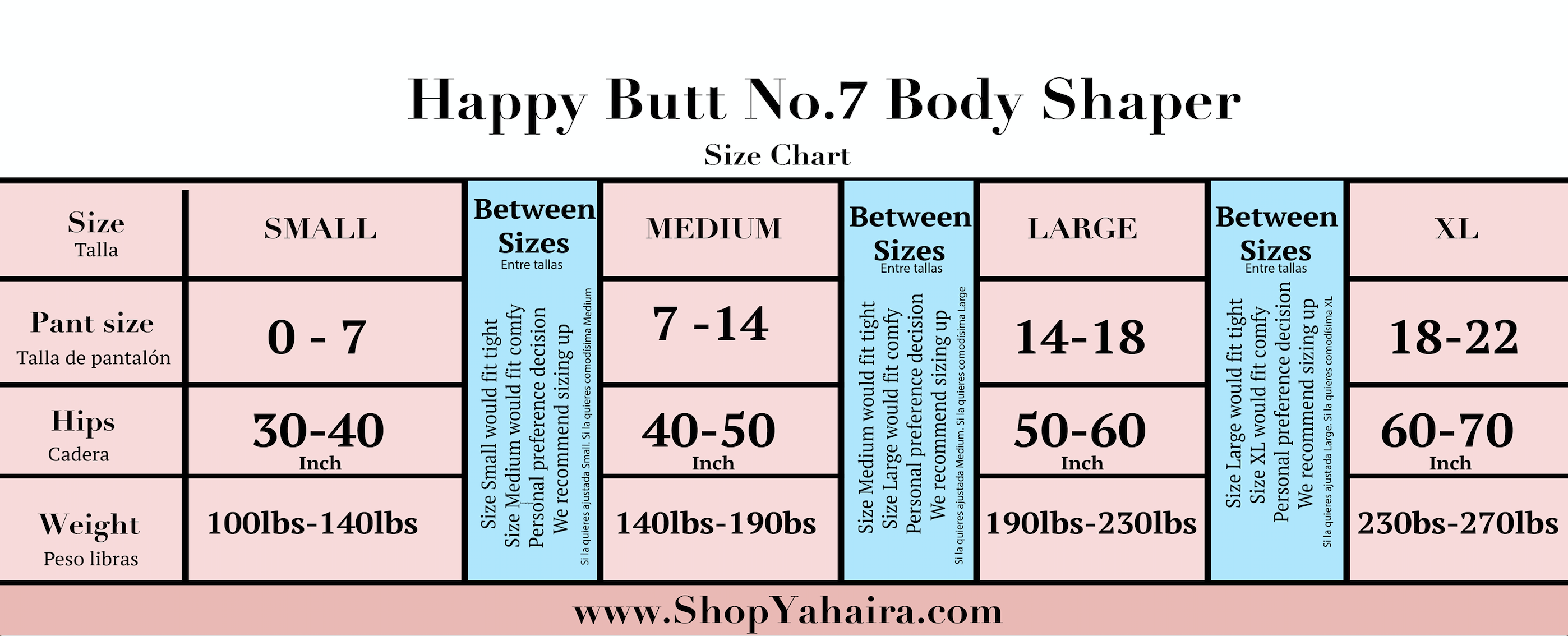 PATENTED US20150157060A1 US10058131B2
35 Reviews
Hello, please advise what size would fit best for 160 lbs/5.2' -Athletic fit. Is it too short on thighs? I need compression in back, stomach and thighs. Please advise.

I need it!!! When would you have more?? I like the tank top style better because it shapes your back as well, the other ones are not too suportive on the back and sides ... creating a roll just where the compression ends .. This tank top style tucks in everything!! I love it

This is the shaper I prefer to workout with. I also have the happy butt number 7 the one that attaches to the bra which I love but I like this one because it comfort to work out. Now, that I know they have a double tummy one that has spaghetti strap and long on the legs, I cannot wait to get the new one! I've been waiting for one like that!!

I love it! It sure makes your body look amazing!

I've tried over 10 brands of shape wear, can you say obsessed? This has been the best ever yet, like it was customized to fit my body. It's fits and shapes perfectly. Every area that needs to be flattened flattens and every area needing to be plumped plumps

This shapewear is amazing. I brought a size XL and it is kind of loose but overall great. It makes my butt look bigger which I love and my breast doesn't look so flat. I would recommend this product to anybody. I plan on buying another one but one size smaller.

I loved it Best Shapewear

I have wasted so much money on shapewear and was never worn either too uncomfortable or not true to size and they all made my butt flatt this is one of my favorite from Yahaira my # 1 is Happy Butt #7 double tummy layer. This tank top I love for those days you want to be comfy but tucked in I love the fact it doesn't flatten your boobs I wear mine with my bra and it pushes them out also hides fat from bra and back ❤

me encanta lo unico q tengo q decir es q deberian poner el mismo material de la parte atras en la parte de los senos..en mi experiencia personal me los aplasta un poco y no me gusta la apariencia de los senos caidos..pero todo lo demas perfecto

The Best 100 % Recommend it.

This is my second time purchasing from Yahaira. Feels very comfortable, very light weight. I recommend it .

I've spent hundreds of dollars on under garments to help smooth out my silhouette until now. This product is hands down the best in the industry. I did have to order a size down as the M was just a little too loose for my body. I'm 5'8 and a size 6, the small was perfect! I highly, highly recommend this product!

La mejor Faja en el mercado mundial mente, como dicen lo bueno cuesta y esta faja lo vale... ☆☆☆☆☆La Body suit para uso casi de diario y la High Waist shorts solo para ocacciones especiales.. Muchas Grasias por crear tan Exelentes Fajas

Es la segunda que compro, me encanta, soy un side M pero creo que la próxima vez trataré un S. Son tan cómodas aunque se se hacen un poco largas para mi torso.