Happy Butt No.7 High Waisted Shorts
So Comfy... Like a Second Layer of Skin.
This seamless breathable body shaper shapes your body without flattening your butt.
Wear it to the gym, office or out on the town.
We've designed it to be your most comfortable, everyday essential.
Designed for shorts, mini skirts and mini dresses.
_________________
SCULPTING LEVEL:
Double Tummy Compression
_________________
BODY SHAPER DETAILS:
* Double tummy panel
* Patented flexible mesh on buttocks region.
* 4 Adjustable removable bra Straps.
* Wide crotch gusset for when nature calls.
* 7 targeted compression zones.
* Butt lifter bands that enhances buttoks.
* Upper thigh butt lifter band.
* Sweat-wicking.
* Four-way stretch.
* Breathable fabric.
* Seamless.
* No stitches or seams along leg openings
* Silicone lining on upper waist welt.
* Silicone lining on end of leg portions.
* Hand washed and laid flat to dry. Do not iron
* 84% nylon and 16% spandex.
* Pressure release at the edge of leg portion designed to relieve leg bulge.
SIZE CHART: Please check size & style tab on menu to select your correct size.
Measurements:
This body shaper fits true to size. If you believe you have fuller legs/thighs please size up so that the shorts styles won't be too tight on your legs.
Once you know your body measurements, consult the Size Chart below to determine which size you should purchase.
If you are not sure or you are in between sizes please write your measurements, pant size, weight and height
in the comments box at the time of check out or you can call 212 739 7877.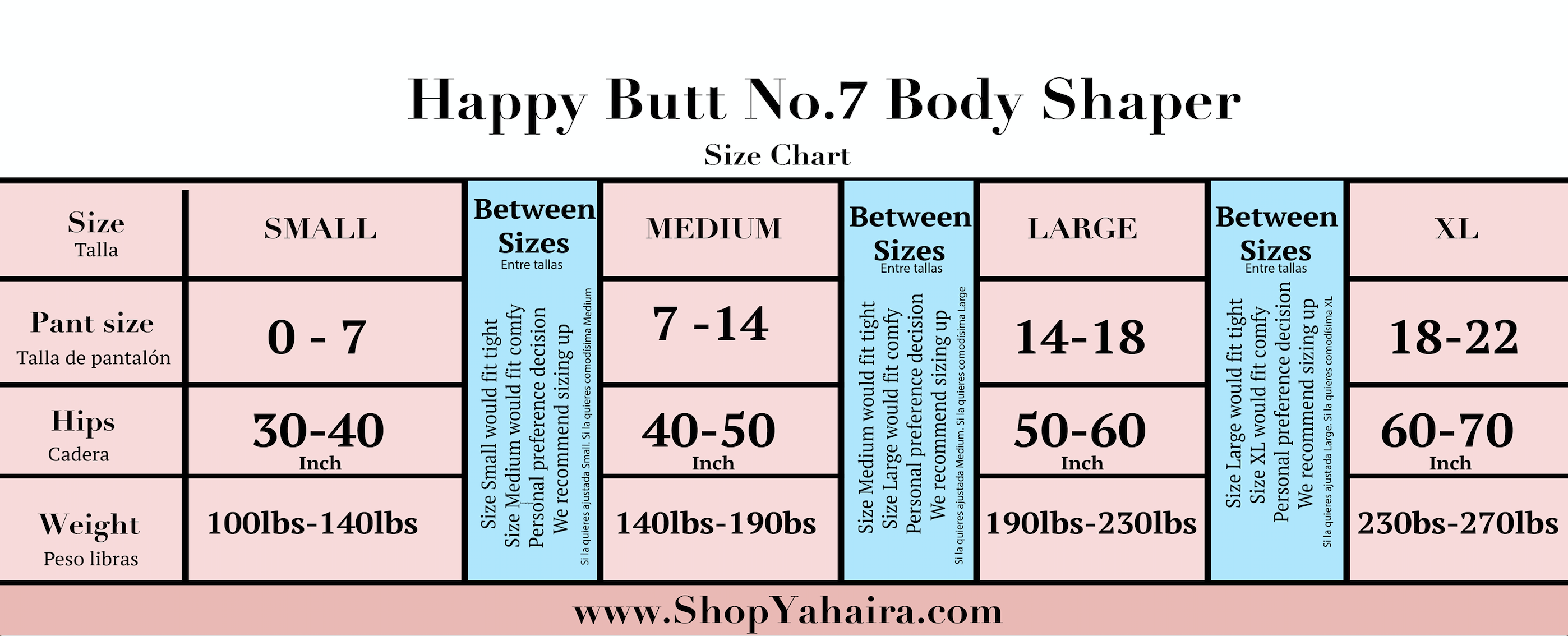 PATENTED US20150157060A1 US10058131B2
410 Reviews
The best I love it !!

I love this it is super comfortable and makes you look great with anything

Me encanto,mi abdomen se ve más plano

Super Fuerte en el área del abdomen,y la ves comoda!!

Best shape wear,sexy and i love the wat it makes my butt look plump

THE BEST THE BEST THE BEST!!!

You HAVE to put it on how the directions tell you to. It's very tight and you're going to think it's not going to fit at first, however it's extremely flexible and will hug your body perfectly once on correctly the butt area is PERFECT! I'm 5,1 125-130lbs and a small was perfect!

Perfect

Happy butt no.7 shorts double tummy

I love this product so much that I ordered a second one.....best investment ever... it really made my butt happy lol....this shaper took my butt from droopy pancake to Curvy watermelon:)... even my husband was shook when he saw me, he was like wait a minute let me take a picture that thang was thanging lol... I loovvvvvveeee my shape wear...

I love it, i love how it make my booty look, just have some trouble with the things that go hooked on the bra, but other than that i love it Might order another one Thank you!

1st time buying from shopyahaira.com

This is my 1st time buying from this website and by far this is the best body shaper. I feel comfortable wearing the body shaper. No more wire hurting me.

Getting into it the first time is a bish.... like LITERALLY the HARDEST this I ever had to put on but once its on and you move a little BAAAABBBBBYYYYYYYYY my butt looks GORGEOUS!! Wasn't sure if out would with for someone with little butt and but ummmmm my butt looks HUGE lol and its smooths me out WONDERFULLY!! BUY IT, YOU WON'T REGRET IT!!!

I love the product but I LOVE the customer service I received more! My thighs are large so the Med was too small. I called customer care and they took great care of me without a hold time .