So Comfy... Like a Second Layer of Skin.
This seamless breathable body shaper shapes your body without flattening your butt.
Wear it to the gym, office or out on the town.
We've designed it to be your most comfortable, everyday essential.
Designed for shorts, mini skirts and mini dresses.
_________________
SCULPTING LEVEL:
Double Tummy Compression
_________________
BODY SHAPER DETAILS:
* Double tummy panel
* Patented flexible mesh on buttocks region.
* 4 Adjustable removable bra Straps.
* Wide crotch gusset for when nature calls.
* 7 targeted compression zones.
* Butt lifter bands that enhances buttoks.
* Upper thigh butt lifter band.
* Sweat-wicking.
* Four-way stretch.
* Breathable fabric.
* Seamless.
* No stitches or seams along leg openings
* Silicone lining on upper waist welt.
* Silicone lining on end of leg portions.
* Hand washed and laid flat to dry. Do not iron
* 84% nylon and 16% spandex.
* Pressure release at the edge of leg portion designed to relieve leg bulge.
SIZE CHART: Please check size & style tab on menu to select your correct size.
Measurements:
This body shaper fits true to size. If you believe you have fuller legs/thighs please size up so that the shorts styles won't be too tight on your legs.
Once you know your body measurements, consult the Size Chart below to determine which size you should purchase.
If you are not sure or you are in between sizes please write your measurements, pant size, weight and height
in the comments box at the time of check out or you can call 212 739 7877.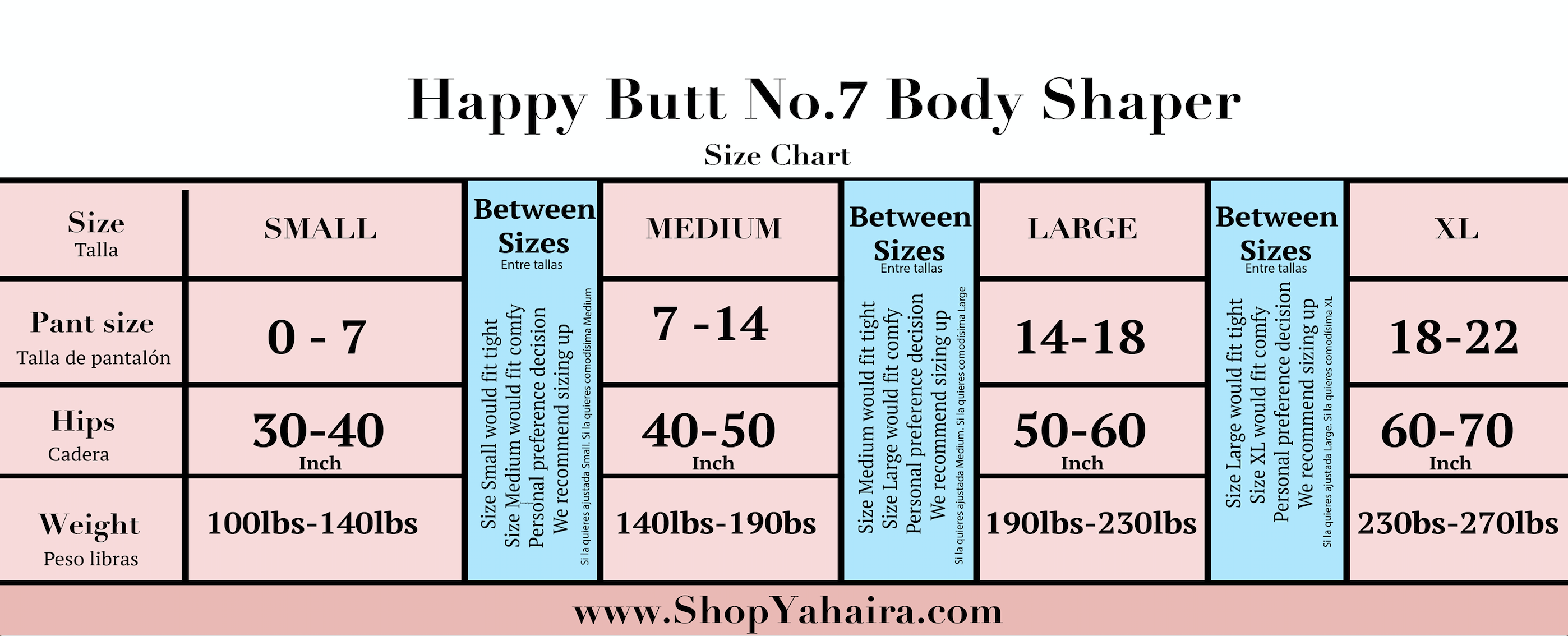 PATENTED US20150157060A1 US10058131B2
273 Reviews
I love this product, it's the best waist trainer I had, I had plenty, this holds me better than any of them and it's comfortable to wear!!! Great job !!!

I Love this shape wear... amazing

perfect fit ,well made, gives your bottom a boost

Happy butt 7 high waisted shorts

The best faja I ever purchased! And even better customer service! The faja is extremely comfortable. It's amazing how stretchy it is and yet holds you in in all the right places. I ordered a size small, i'm 140lbs and 4'11. If you have very very thick thighs you should size up for the shorts or order your exact size for the one that goes to your knees. Thank you so much Yahaira. I feel so sexy in my faja! I can't wait for the swim collection.

I am so glad I bought my happy butt number 7!! I am in love with how my dresses look now, I don't see any love handles or panty liners. It doesn't flattens your butt in all contrary it helps it, my butt looked so perky. I absolutely recommend it!

I have used almost every body shaper ever, hands down this is the best. Yahaira is my new addiction just purchased another one in nude. I can't wait for more outfits and shapers. When I tried it on I looked at my butt and said to my daughter this is why it's called happy butt number 7 . The shape beautiful , the feel is amazing. I didn't wanna take it off, thank you yahaira you are the best.

First time trying on I was a bit worried I had gotten the wrong size, it just didn't seem like it would fit me. From then on I'm in love. It make me walk sexier and feel secure. Great product its obvious they took their time constructing this one

Loved it!!! I have even decided to buy more. So worth the money!

I absolutely love this body shaper everything I throw on with it looks so good with dresses it makes u look nice end curvy with jeans your butty looks amazing no need for BBL

This thing is AMAZING!!! It is comfortable and it holds things where they need to be. Makes me go from Spongebob to Jessica Rabbit real quick. Ordering more.

I'm not going to lie, I was a little unsure that they were going to fit when I first recieved mine. They look so small right out of the package. I was nervous about putting them on because I didn't want to rip the mesh on the booty area, ha ha... but once I pulled them all the way up, I was IN LOVE! It accentuates all of my curves without leaving the "pregnant look", my but looks amazing and most importantly, it is so comfortable! So far I have worn them to work and everyday errands and at one point, I even forgot I had it on. The 'potty opening' works great and was very convenient. I loved it so much that I bought my mom one for Mother's Day, and in turn, she loved her's so much, she told her co-workers and a couple of them ordered some. I am definitely going to grab a few more, like the knee length ones to wear under longer dresses and pants. Thank you Ms. Yahaira! For reference, I bought the xl and I am 5' 7", 286lbs and carry most of my weight in my stomach, hips and thighs, with a pretty rounded butt. Lol

The best shapewear I've ever purchased in my life! It's worth every penny, I promise you won't be disappointed.