Happy Butt N°7 Low Waist Above Knee Double Tummy Layer
So Comfy... Like a Second Layer of Skin.
This seamless breathable body shaper shapes your body without flattening your butt. We've created Happy Butt N°7 Low Waist above the knee with firm compression, Double layered tummy panel specially designed to flatten the lower abdomen, breathable, invisible under clothes with 7 targeted compression zones where you need it the most, a double gusset for ease when nature calls, silicone lining on the leg edge portions to prevent the rolling up effect.
Happy Butt N°7 Low Waist above the knee look amazing under midi dresses, maxi dresses and crop tops. This Seamless breathable body shaper can be worn daily under any clothing. Wear it to the gym, office or out on the town. We've designed it to be your most comfortable, everyday essential! This body shaper fits true to size. Happy Butt N°7 is super lightweight ... Weighing only 6 Oz.
If you are between sizes please select a size up.
__________________
SCULPTING LEVEL:
Firm Compression.
__________________
This extraordinary patented shaper has:
* 7 targeted compression zones where you need it the most for a more comfortable fit.
* Double layered tummy panel specially designed to flatten the lower abdomen.
* Butt lifter bands that support, lifts and enhances your own natural shape.
* Special mesh on buttocks region to avoid flattening and enhance volume.
* Anti-bacterial technology prevents the growth of odor-causing microbes.
* Sweat-wicking.
* Four-way stretch.
* Wide cotton crotch gusset for when nature calls.
* Special zone in mid leg that expands according to your leg size.
* Pressure release at the edge of leg portion designed to relieve mid thigh leg bulge.
* Upper thigh band which supports lower buttocks while boosting Volume.
* Invisible under clothes.
* No stitches or seams along leg openings.
* Silicone lining located on the leg portions
to prevent garment from rising.
* Silicone lining located on the waist band
to prevent garment from rolling down.
* Made with a very soft and light yarn.
* This shape wear provides very firm control shaping.
* Fabric Content: 84% Nylon, 16% Elastane
* You can wear it day and night you won't feel it.
* Hand washed in cold water and laid flat to dry. Do not iron.
SIZE CHART: PLEASE SIZE UP IF YOU ARE BETWEEN SIZES.
Please check size & style tab on menu to select your correct size.
The model is wearing a size MEDIUM. Her height is 5.3 Weight 134 Lbs, pant size 7
Measurements:
Once you know your body measurements, consult the Size Chart below to determine which size you should purchase. If you are not sure or you are in between sizes please write your measurements, pant size, weight and height in the comments box at the time of check out or you can call 212 739 7877.
This body shaper fits true to size.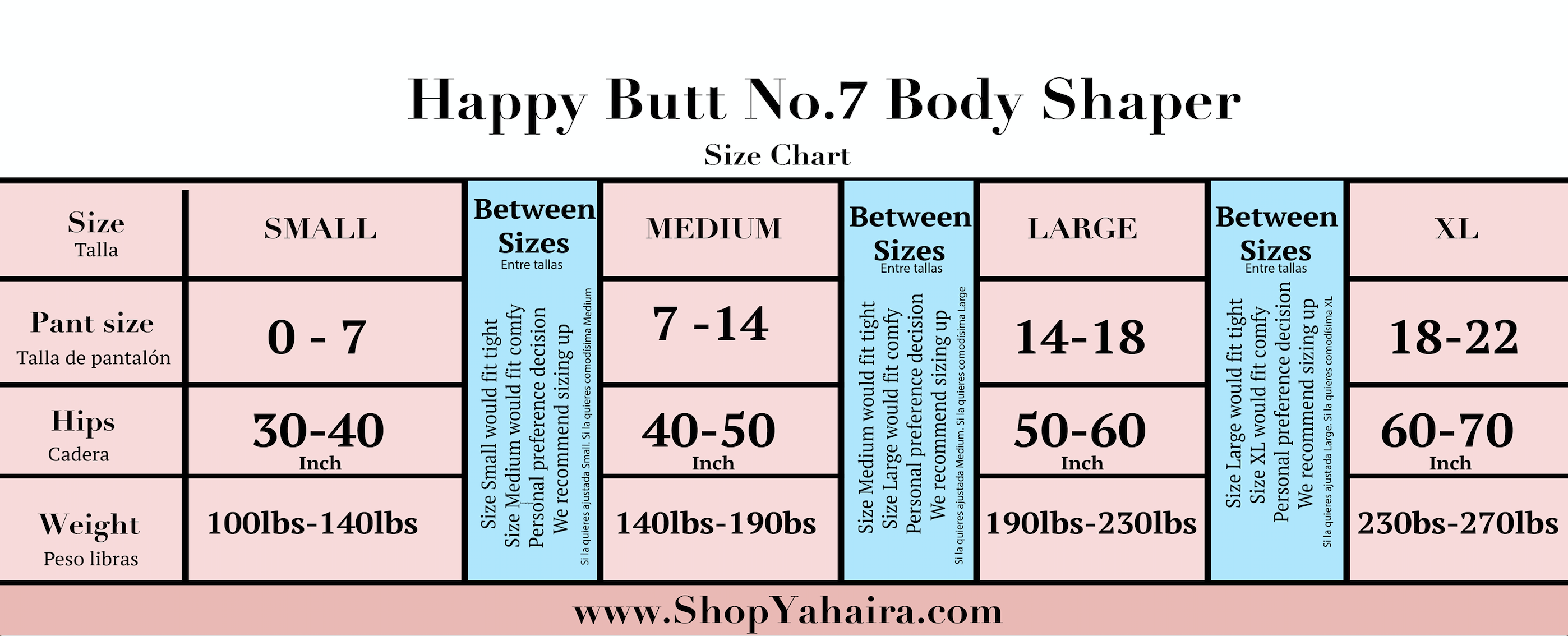 INVENTOR YAHAIRA ( She is wearing size Medium. Pant size 7 )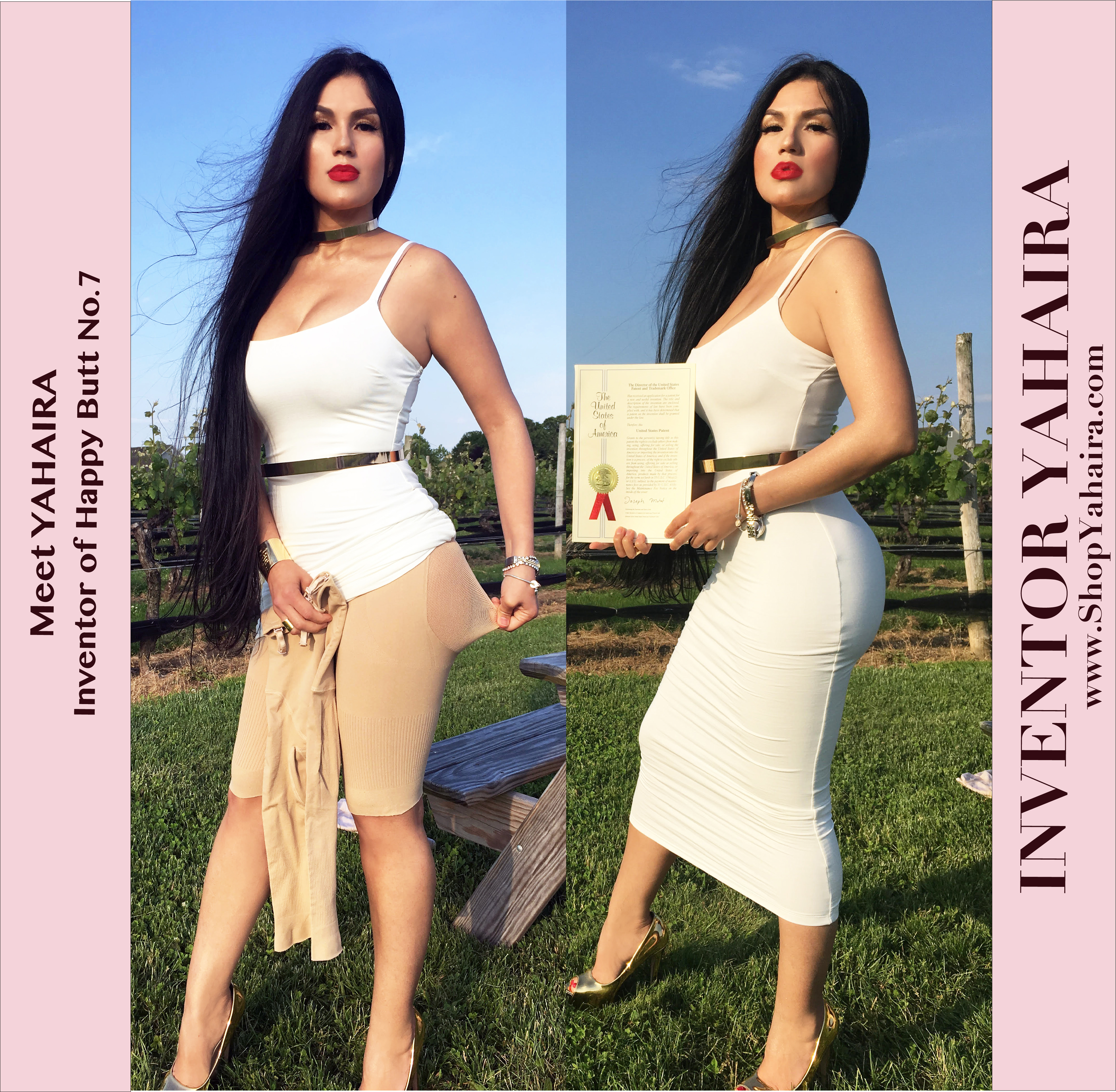 PATENTED US20150157060A1 US10058131B2
67 Reviews
I I love it and the way the buttocks are marked they look beautiful and the best thing is that it shows in clothes

THE BEST EVEN FOR PETITE SHAPES!

This body shaper is beautifully made with quality fabric and has beautifully shaped my petite body. I don't have much junk in the trunk but this has really given the little I have a beautiful lift! Thank you Yahira for this top notch product!

Best shapewear in the market, this is my 3rd one within a year

I absolutely love my shaper.

Its makes my butt look fantastic

I love this shape wear, I have a short torso so the low waist fit like a glove, I highly recommend, gave me a better body shape and I feel more confident!

This really transforms your body in a good way! I have the shorts and I just purchased my second over the knee. Listen.. I do not leave the house without it on. This jawn low key catfish. Girl buy it!

Waist still rolled down and it was too tight on my legs. However the shape of a flat tummy and perky butt was great

I bought the HB7 Low Waist Above Knee TBL shaper to help smooth out certain lower areas in a very fitting dress for my boyfriend's birthday. I was worried because I never do low waist ANYTHING since I am tall and wide, but the dress had a low back which I could not use a full shaper for, so I took a chance with Yahaira. AND IT WAS THE BEST RISK I EVER TOOK! The low waist didn't roll down as other shapers do and the legs didn't roll up, so no ugly noticeable creases or unflattering areas. The fact that it did does not flatten the booty, is also a major plus! I am currently 4 months pregnant and am still able to use the shaper to support me. To my surprise, it's still comfortable, but I know I should not wear it, so I have just ordered the maternity shaper and cannot wait to wear to support my shape during this first pregnancy! I have never felt so supported while also being so comfortable! I love this product and cannot wait to get my newest purchase!

I LOVE this shaper. It doesn't bulge at the waist like most shapers. I think that was my main concern. Shipping was fast I'm a happy customer

This is one of the two I bought it's great for jeans leggings and u can definitely work out in them ! I did my self and it just holds ur body together ! And You can't see it thru any type of clothes ! Is just beautiful

Of course I looked at it and thought I can't get in this LOL... but true to Yahaira's sizing it fits and EXACTLY does what is advertised I'm beyond pleased and will be purchasing another. Oh my butt is very HAPPY

I have bought from different brands and none seem to do what this shapewear does. It lifts your butt and hides the tummy. I already bought 2. The short and knee. If you're thinking about it go for it!