Happy Butt N°7 Low Waist Above Knee Double Tummy Layer
So Comfy... Like a Second Layer of Skin.
This seamless breathable body shaper shapes your body without flattening your butt. We've created Happy Butt N°7 Low Waist above the knee with firm compression, Double layered tummy panel specially designed to flatten the lower abdomen, breathable, invisible under clothes with 7 targeted compression zones where you need it the most, a double gusset for ease when nature calls, silicone lining on the leg edge portions to prevent the rolling up effect.
Happy Butt N°7 Low Waist above the knee look amazing under midi dresses, maxi dresses and crop tops. This Seamless breathable body shaper can be worn daily under any clothing. Wear it to the gym, office or out on the town. We've designed it to be your most comfortable, everyday essential! This body shaper fits true to size. Happy Butt N°7 is super lightweight ... Weighing only 6 Oz.
If you are between sizes please select a size up.
__________________
SCULPTING LEVEL:
Firm Compression.
__________________
This extraordinary patented shaper has:
* 7 targeted compression zones where you need it the most for a more comfortable fit.
* Double layered tummy panel specially designed to flatten the lower abdomen.
* Butt lifter bands that support, lifts and enhances your own natural shape.
* Special mesh on buttocks region to avoid flattening and enhance volume.
* Anti-bacterial technology prevents the growth of odor-causing microbes.
* Sweat-wicking.
* Four-way stretch.
* Wide cotton crotch gusset for when nature calls.
* Special zone in mid leg that expands according to your leg size.
* Pressure release at the edge of leg portion designed to relieve mid thigh leg bulge.
* Upper thigh band which supports lower buttocks while boosting Volume.
* Invisible under clothes.
* No stitches or seams along leg openings.
* Silicone lining located on the leg portions
to prevent garment from rising.
* Silicone lining located on the waist band
to prevent garment from rolling down.
* Made with a very soft and light yarn.
* This shape wear provides very firm control shaping.
* Fabric Content: 84% Nylon, 16% Elastane
* You can wear it day and night you won't feel it.
* Hand washed in cold water and laid flat to dry. Do not iron.
SIZE CHART:
Please check size & style tab on menu to select your correct size.
The model is wearing a size MEDIUM. Her height is 5.3 Weight 134 Lbs, pant size 7
Measurements:
Once you know your body measurements, consult the Size Chart below to determine which size you should purchase. If you are not sure or you are in between sizes please write your measurements, pant size, weight and height in the comments box at the time of check out or you can call 212 739 7877.
This body shaper fits true to size.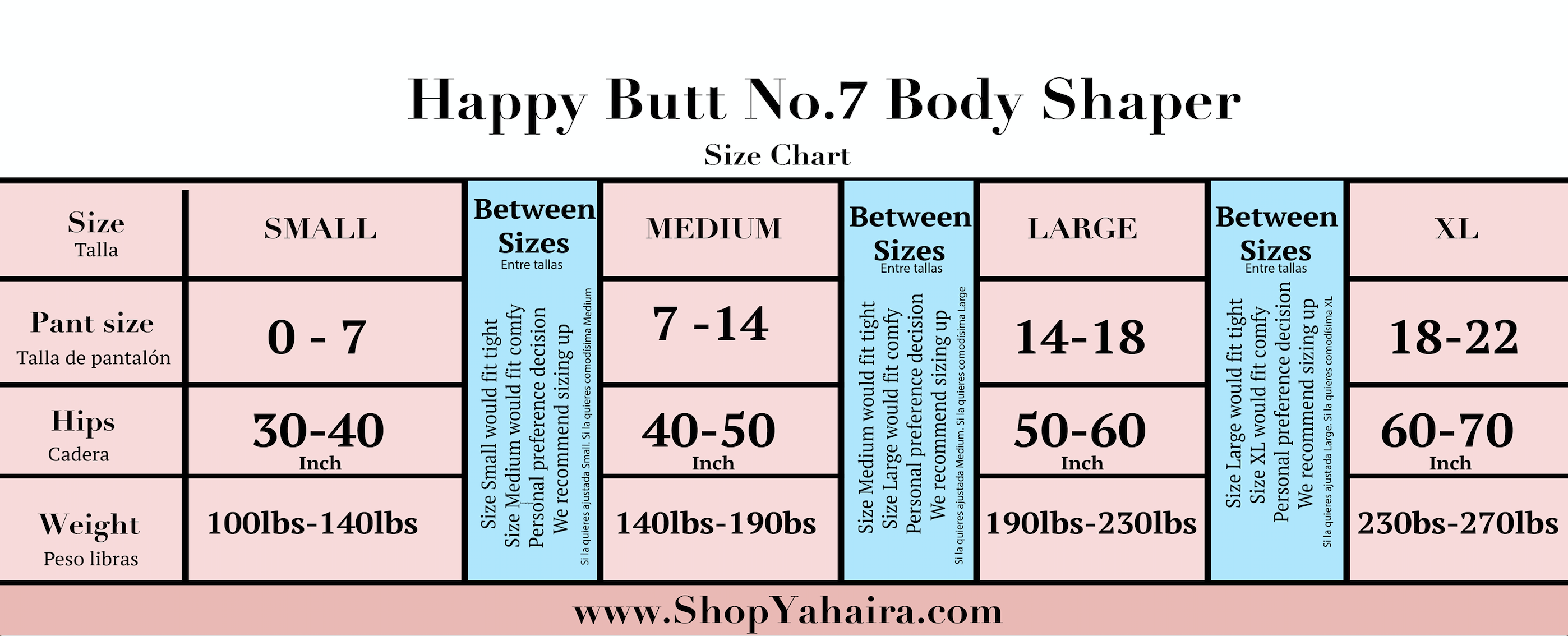 INVENTOR YAHAIRA ( She is wearing size Medium. Pant size 7 )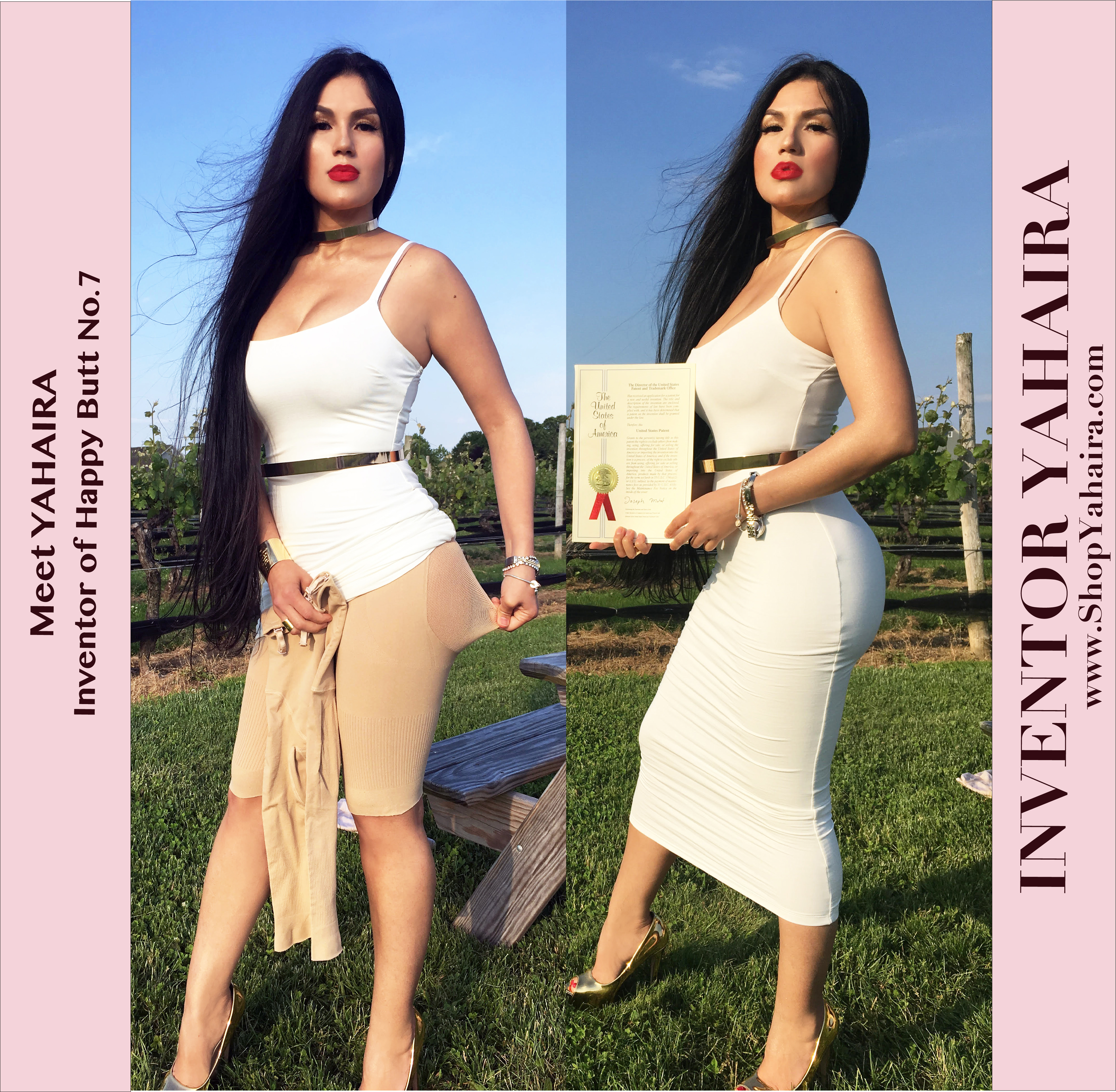 PATENTED US20150157060A1 US10058131B2
54 Reviews
Absolutely fantastic!!! I feel so much more confident in these.

Absolutely fantastic!!! I feel so much more

Low waist above knee shaper

This, like all of the shapers are incredible. I love the way it lifts and shapes me with also being seamless nearly invisible under my clothing

Looks natural. I've order another one, will have 3 soon.

This is literally the BEST shape wear! I wear tight jeans and when I tell you ITS SEAMLESS! and it's comfortable. My butt looks good too!! I'm definitely buying more! As a woman its so important to invest in good shape wear! This is the best shape wear I've ever bought in my life.

True to size, I am 5 feet and have a short torso. This is the first shape wear that fits perfectly. I work in healthcare and work long hours and this shape wear can be worn for many hours and you will forget that you have it on.

After so many videos, reviews I decided to take the plunge and buy the low waist one. I'm 5'2, have a normal to shorter torso. I'm 120lbs. I was told to order a small since I wear 4-6 jeans but went with the MEDIUM and I'm SO glad that I did. The small would have been super uncomfortable and just way too tight for my liking. I have a size 27-29 waist. If you're close to my measurements which may seem small, trust me and get the medium unless you really like being squeezed super tight. The medium still hugs me tight, lifts NICE and give me all the curves in the right places. Very pleased!

This is THE BEST body shaper ever! It's worth the price!! It really does accentuate my small waist and my butt is poppin' !! So happy!! I got three pairs and I am ordering the newest one with attached soft bra!

Wow, this shaper is truly amazing. Have never worn a bodycon dress in my life but with the shaper I could wear a bandage dress

great quality, strong material, excellent body shaper,

It is the best body shaper I have ever tried in my life It is very comfortable is invisible it feels like a second skin , Good quality and it adapts to your body The elastic band makes your glútes are in position and lifts them I am very happy I feel confortable and sexy , how it transforms my body when I put it on it makes your body look natural and the best thing is the opening it has to go the bathroom, (YAJAIRA )

Love this shapewear. It arrived fast and let me tell you I ordered a small I weigh about 130 and am 4'9" it slimmed my waist and my butt looks amazing. Only con is I think the small was a bit small on waist so it rolls just a bit, but besides that a miracle and must have for all ladies. Definitely recommend you don't even feel it on.

I love this product and have ordered about 4 already! Cant see myself ordering any other brand ever since buying Happy Butt no. 7. It really holds well and is super thick and breathable fabric! Also, you can't see it under dresses ;)

Happy butt #7 is great!! I love the lift and support I get from using it. Also the fact that I can walk around comfortably all day and bot worry it will start to roll down! Love it!!

Money well spent!! I look forward to trying out more!